Everything
April 16, 2011
Narissa had almost everything in her life. Friends, money, and popularity; the only thing she ever lacked was someone who actually liked her. Her parents ignored her, giving her money and then leaving on business trips and fancy vacations, always leaving Narissa at home by herself. Her friends never actually liked her; they just wanted her money and her popularity. All of them were rude and acted like spoiled brats. When they were together, all they ever did was gossip and say cruel things about people who actually had friends and enjoyed life. She dated all the hottest boys in school, but there was only one boy she ever truly loved. Of course, their love was forbidden. Not by her parents, but my society.

Although people viewed them as opposites, they were similar in so many ways. Both were lacking parents that loved them, both had no real friends, and both were in love with each other. Aaron's parents were both in prison for child abuse and neglect. They had hurt him many times, but at the age of 14, he hit the streets. He had to find a way to make money, and he soon found his way into the drug-dealing business. He never touched the drugs himself; he had seen what it did to people, had done to his parents. Narissa came to him one day asking for drugs because she was so fed up with her life, and she soon became a steady user, and a steady costumer for Aaron. She was so defenseless and sad, Aaron wanted to do everything he could to help her, and they fell in love.

She got more addicted and slowly began to deteriorate, but she still couldn't give up the life that made her so sad. She rejected Aaron in public; instead she mocked him, scorning him for his clothes and his job. At night, she thought about him always, and for a while she quit the drugs. Since she could not be seen with him in public, she began to lose her fragile hold on her life. Even with him there to help her in private, her drug abuse spiraled out of control. He tried to make her see how much he loved her, so she would stop slowly killing herself, but it didn't work. One day he got so fed up with drugs and pain that he snapped, and left her on her bed with the pills in her hand.

Neither of them could stay away for long, during the day they hated each other, but could not resist each other at night when the monsters came for them. Narissa still continued to lie to herself and her friends, putting up fragile little walls around herself. One day she was so high that she told one of her friends that Aaron was stalking her. That night Aaron turned Narissa into the cops and smashed through her fake little world, revealing her real self to everyone. She was sent to rehab the next day. She came back three months later, and Aaron had hoped that she had changed. Then at school she went right back to her old friends and ignored Aaron, but he still loved her.

Until the day that he was walking to her house after school and he saw her down in an alley talking to a drug dealer, that was the last straw. He had had it with Narissa and everything about her, her false pretenses, her lies, and most of all, her drugs. He ran down that alley and gripped her arms "Why do you do this to me?" he growled at her. "Why can't you accept me for what I am?" she said as she pulled herself out of his grasp. "This isn't you" he yelled, "This is just something the real you does to cover up the pain." "You don't know me!" She screamed.

Aaron came unglued, and smacked her, something that he had sworn he would never do after he saw his father do the same thing to his mother. He looked at his hand and her with deep disgust, and he realized that he couldn't do it; keep loving this girl that was like a drug to him, addicting and harmful. He could no longer live like this, hiding his love during the day and dealing with her addiction at night. He slowly backed away, and when he reached the end of the alley, Narissa realized what he was planning. She tried to stop him, but it was too late. He stepped in front of that bus before the words could even leave her mouth. He died with her name upon his lips. The next day Narissa was found in her bedroom, dead, just another statistic about teen suicide.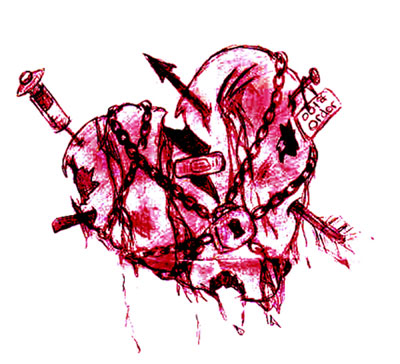 © Asia B., Hudson, MA