Eleven Stones
April 8, 2011
It'll take me a while to forgive you; like sand through an old screen door. You still come around at night, skipping eleven white stones in the pond out my big window. Then you lay your head down in the prairie grass right outside my big, white window. And I know what you're thinking. I know the rhythm of your heart, because my ears were trained to go up and down, as my head lay steady against your warm chest. And as your mind runs through each of those eleven things, by that pond, in the tall prairie grass, out my big, white window, you know I'm right on the other side—Still loving you.

The first stone is for patience. Lord always knew we needed more. Somewhere along the road we couldn't take it anymore. We got fed up fast, lost control of our emotions, and ability to tolerate and support each other's passions and dreams. I knew we'd run out of patience when kissing you after a fight just didn't make you smile anymore. When I got stubborn and irritable, you didn't take the blame anymore and apologize. When we both finally just gave up, and you started sleeping on the couch to avoid kissing me goodnight. The days felt longer, nights felt colder. Until eventually we grew tired, and our childhood love just wasn't enough.

The second stone you skipped was for time. We just ran out of precious time. Our days got busier, I was never home. There were days where you slept till noon, and woke only to drink away your many attempts at getting a job. I'd come home some nights, and you'd be on the back porch, sittin in that rocking chair that we loved, playin your favorite guitar, and singing to the moon. "Lover's names, carved in wood, overlap, start to merge." The same light melody you'd sang for years, whispered it right in my ear as we lay under the glittering Ohio sky. But then I'd be frustrated that you left the house a mess for me to clean after a long day of work. It wasn't fair. I didn't have the time. The time to be your mother. To cleanup after you. To waste my life being inconvenienced by your lack of motivation and responsibility. You didn't have time to love me like you used to, and I forgot to make time to love you back.

This stone meant a lot. You skipped it like you skipped rope. With that concentrated look in your big round eyes. You skipped this stone for honesty. And every evening you came around, this stone took you the longest to throw. You held it in your warm palm, remembering my silly laugh, and that day. That day you wrapped me in lies, like English ivy on an Evergreen tree. I won't forget that day; that day that you wove sadness into my heart.

The fourth stone you skipped made you think about my eyes. The deepest brown you'd ever seen. This one was hope. "Hope is the thing with feathers, that perches in the soul. That sings the tune without the words, and never stops at all." We'd each read that poem one thousand times, and never found it true. The day we lost hope in our love, was the day I lost faith in you.

As much as my heart would deny it, my mind believed it so. The next stone you skipped was for mendaciousness. The fights, the yelling, the quarrels over your initiative and my unrealistic dreams. We came to a point of no return. You'd always said that being childish and childlike were two different things. I believed you. Until our anger got the best of us, and the jokes stopped being funny.

The sixth stone you skipped should have come easy. This stone was for laughter. Back when we were young, that's all we ever did. Laugh. Some of our best times were climbing trees, and walking through the woods. Laughing always. You made me laugh. I had this big, full laugh. And it always made you smile. I miss that smile.

Everything always comes down to money. So you skipped this stone for our incapability to pay the bills. You never went to college. Never had a steady job. My dream of being a writer was abandoned, because it wasn't realistic anymore. I was stuck with a mortgage, a car payment, and college loans. Bogged down by this 7-5 office job. I grew unhappy. You grew tired. You were always tired. And then we'd fight. Fight about the money. You'd tell me to ask my dad for money this time. He never believed in us, you know. Not for a minute.

When things got hard between us, I'd pray. But you never did. So this next stone is for prayer. Now you realized how big of a part that was of me, as you stared at the reflection of the moon in the black water of that pond. I bet you feel sorry too. Right now, I'm sayin a prayer. Like I have, since I was just a tiny kid. Every night. Prayer's for you.

The stone you skipped for kindness took you back to our favorite tree. Right in that graveyard, where we spent our teenage summer's. It's like a yellow tinted Polaroid picture. Remember? Those albums that we found on the farm? Those pictures made me think of kindness. When things got real adult-like and serious, I grew up. That made you mad. You said I wasn't the same. Said I wasn't the Em you remember. You stopped being kind first. And then I stopped being kind to you.

You walked around the pond, and went real quiet as you listened for the bull frogs. You looked over at my window, and saw nothing but flashes of memories. You, me, my brother, and your sister. We were a team. I loved you all so much. You meant the world to me. You were my best friend. You know that? I told you everything back in those days. Every last thing. When we both experimented with alcohol and drugs for the first time, we talked all about it. When we got serious, got intimate, and started exploring each other a bit further. We were still friends. But in the end, we never talked. Never shared anything. We were silent, always. You never said a word. And I tried, I swear I did. But you just wouldn't speak to me anymore. That's when we stopped being friends.

Just as the sun was about to rise over the foothills of the Appalachia's, you'd make your way to the woods. There in the woods, you skipped your last stone, in the shallow creek next to that big oak tree. That last stone was for the thing we never lost. The only thing we still have. The eleventh stone you skipped, that last stone was for love.

I didn't have the patience to love you. I didn't make time to love you. You fed me too many lies for me to hold on to the love that I had for you. I lost hope in our love. I let trivial facts of reality distract me from our love. I forgot how to laugh at our love. I didn't have the money to love you. I prayed for our love, but those prayers were never answered. I wasn't kind in our love. I forgot in our love, that you were my best friend. But darling, I always loved you. I never stopped loving you.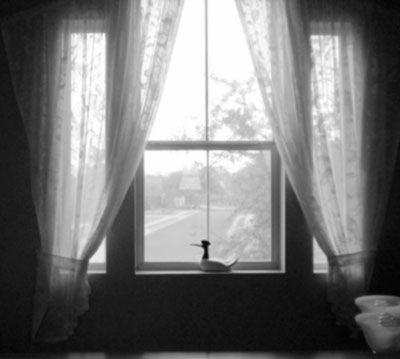 © Kathryn W., Austin, TX