Love Kills
March 19, 2011
"Why are you doing this?" I woke with a start with the feeling of metal being pushed into my skin. I look down to my stomach, to see that it's a gun.
"Because I love you," he whispers, as if it's the most obvious thing in the world.
"Don't do this." He laughed at me. I could tell that there was fear in my eyes. Our daughter slept downstairs, right below us. We were going to get married soon. "If you really love me, you won't do this."
He looked at me, like I was making no sense. There were tears running through my eyes. If he was going to kill me, what would he do with our daughter? He leaned down to whisper something in my ear, but I distracted him.
When he began to lean down, I touched my lips to his. He was caught off guard. He loosened his grip on the gun before letting go to caress my cheek. When he let go of the gun, I grabbed it and held it out of his reach.
He tried to grab it out of my hand, so I got out of bed and ran to the other side of the room. Tears were running down my face as he slowly walked towards me. Step by step, he got closer to me.
"I'm sorry. I'm so sorry," he whispered with each step. When he got close enough, he held my face in his hands. He gently kissed me, and dropped his hands from my face down my arms. By the time I realized what he was trying to do, it was too late.
He fought me for the gun I was still holding in my hand. He was pulling, and it was slipping out of my hands.
BANG! A shot rang out of the gun. Who fired it? Did one of us get hit? I didn't feel anything, so I knew I didn't get hurt. I looked at him, and his mouth was wide open. He took a few steps back, and I could see the hole right above his heart. I had shot him.
He looked at me with vacant eyes, and whispered his last words. "I love you." Everything happened slowly after that. He began to fall, and I heard a thud once he finally hit the floor. I had killed him.
Everything was silent after that. There was no noise, no nothing. Time just seemed to stop. I took a few steps towards him, then dropped to my knees. "I love you, too," I whispered.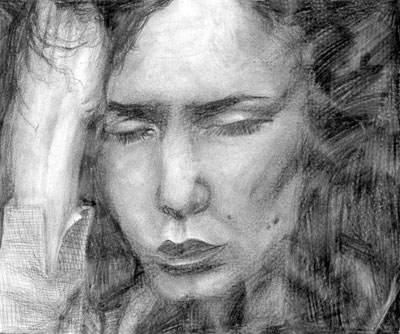 © Fallon K., Baldwin, NY