Why I love Spanish Class.
March 17, 2011
Yep, we met in Spanish class. He had failed the year before, and I was interested in learning languages. He's got an odd taste for music like me, and plays drums in a band once in a while. He's Polish. And he has blue eyes. Much bluer than mine, which are more greenish-blue. He also has blonde hair like me, but keeps it short, unlike me.
I like talking to him about school, and music and life stuff, apparently what everyone else does. But when he talks, I remember, and when I talk, he listens. And sometimes we play tennis together, and make fun of eachother for how badly we do in school. He likes science and I like history.
We both like art.
I tried teaching myself guitar and he tried teaching me how to play drums. Which was why when his mom came downstairs, she asked me if I had turrets because I had no rhythm. And he laughed that amazing laugh of his that makes me laugh too, just because I like it. We both doodle all over our homework when we talk on the phone at night. I tried teaching him to roll his 'r's for our Spanish oral exam, which led to our first kiss.
Thanks for making him fail freshmen Spanish class, Love.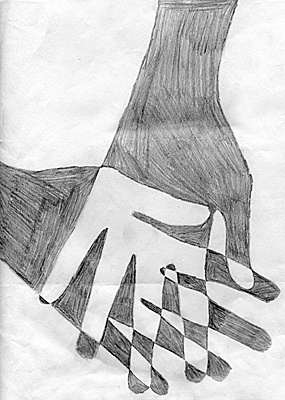 © Warlito B., Tamuning, GU