EC+WM=4never (37)
January 25, 2011
April 13, 2010 (37)
10:30 a.m.
Evalynne's Apartment

When I opened the door to my apartment, I walked in to find Ashton sitting on the couch, flipping through the channels on the TV. He sported a pair of flannel pajama pants and a white wife beater. He had obviously spent the night.
"Hey, Evalynne," he greeted me, blushing at the scene I'd just walked in on. "Addison's in the shower. She said you wouldn't be home until a little later."
"I'm sorry," I apologized, feeling beyond awkward. "I got back earlier than I thought I would."
"No, it's fine," he said, hastily rising from the couch. "I was actually just about to leave." This was clearly a lie. He just wanted to get out of there before I began to grill him about the Ash thing again. I really wasn't in the mood for that at the moment though. I knew there was definitely some sort of relationship between him and Ash, but I was too tried to try and figure it out at the moment.
I stood there uncomfortably as he rushed into Addison's room to grab his clothes. When he came back out, he quickly scrambled to put on his shoes and then hurried towards the door. But something fell out of the pocket of his jeans as he did so.
Curiously, I bent down to pick it up. He turned back to look at me just as I lifted the item up to examine. The look on his face was one of panic.
My eyes widened when I held the smooth, silver ring up to my face. I recognized it instantly. Feeling sick to my stomach, I looked on the side of the wedding band, where the words EC+AM=4ever were inscribed. I held up my right hand, comparing the ring to the one I was wearing on my finger. They went perfectly together…because the ring I was holding was Ash's wedding ring.
Tears flooded my eyes as I looked back up at him. "Ash?" I whispered.
"You weren't supposed to find out like this," he replied softly.
I stood there with tears running down my face, at a complete loss of words. My dead husband was standing before me. How was this possible? I just couldn't wrap my mind around it.
"I can explain everything," he told me. "You might want to sit down for this though." He led me over to the couch and I let him, too weak to fight back. I was in a state of pure shock. "You were right. I do have a twin. His name is Ashton Magnolia. You see, before Ashton and I were born, my mom was dating two guys at once. One of them was a guy named Carl and the other one was my dad. She got pregnant, but she wasn't sure who was the father, so she just told them both that they were the father. She decided to wait until she actually had the kid and found out who's it really was to decide who she was going to stay with. But then, it turned out to be twins. So she decided to tell both guys that there was only one child.
She named me Ash and my brother Ashton so that she could just call us both Ash without getting mixed up. The whole last name thing was just a huge coincidence. But anyways, she raised me with my dad and Ashton with Carl. But after a year, she decided to dump Carl for my dad. So she left Ashton with Carl and moved in with my dad and I to form a real family.
Fifteen years passed by without either me or my dad knowing about this, but then one day, someone called our house. I answered it and it was some guy I didn't know named Carl. He asked me if he could speak with my mom, but she wasn't home so I gave the phone to my dad. When my mom got home, my dad asked her who Carl was so she said he was just an old friend. He could tell she was lying though so he became suspicious. Soon enough, he figured out that Carl was an old flame that she was still speaking with and one day, he heard her talking on the phone about Ashton. I heard it too.
So both of us realized what had happened and my dad got really mad. He started to stalk Carl. And one day, while Carl was headed home from the grocery store, my dad drove straight into the side of his car and killed him. That was the hit and run you found out about before. When my mom found out what he'd done, she started freaking out and wanting to go tell the police, so my dad tried to stop her… You know what happened after that."
A sad, nostalgic look crossed his face as he reminisced about when he'd killed his dad in order to save his mom's life. That was all beginning to make sense now though.
"So anyways," he continued, "when Ashton got to the scene of the accident, he heard about the hit and run and knew who it was immediately. You see, he'd caught my dad hanging out around their house, watching Carl. He'd also listened in on some of Carl's phone calls to my mom and figured out that he had a twin. So he decided to come to my house to get the full story.
When he showed up, my mom started crying and getting all emotional and she cracked. She told both of us the entire story from the very beginning. Ashton and I started talking more after that and we actually kind of became friends. He told me he was going into the army because his great grandfather had been in the army too. We still weren't sure who was our real father: my dad or Carl. But for all I knew, his great grandfather was mine too. So after he told me more about it, I decided to go into the army too.
He went to go live with his uncle and we went on about our lives, but we still kept in contact. I never told anyone about him and he never told anyone about me because that was what we'd agreed on. We didn't want to all of the sudden become brothers. So instead, we just stayed distant friends. But then we both went into the army together.
When we were fighting there, this huge explosion happened. We never really figured out what the cause of it was, but we figured it was from some mishap with the gun shots. So a whole bunch of people got killed because of it, including Ashton. But I got trapped under a whole bunch of rubble. There was so much of it that I couldn't move. I was practically buried alive down there, but I could still breathe because there was a small opening that let in air. I was stranded there for a few days though.
So when they saw that Ashton was dead, they thought it was me because we're identical. They told you it was me too, until finally, someone found me trapped under all the rubble. My knee was busted up really bad so I couldn't fight anymore. So they sent me home. I was so excited to come back to you, Evalynne. Believe me, I was. But when I got back into town, I was on my way to your house and I saw you with someone else. You were making out with a guy in his car. You looked so happy with him. I knew that you had moved on and I couldn't bear to come back and ruin everything for you. So I decided to take the place of Ashton so that nobody would ever find out that I was still alive. And it worked too…up until now."
I couldn't believe it. I was still much too stunned to speak. Ash was here. He was really, truly here. He hadn't ever died after all. I managed to suck in a shaky breath as more tears flooded my eyes.
"Evalynne, you're home," Addison said, walking into the living room. Quickly, I rose to my feet and brushed past her in order to make my way to my room. I didn't want her to see me crying because then she would ask why and there was no way I could explain everything to her. I was still struggling to believe it all myself.
So instead, I locked myself in my bedroom and let all of my emotions out through my tears.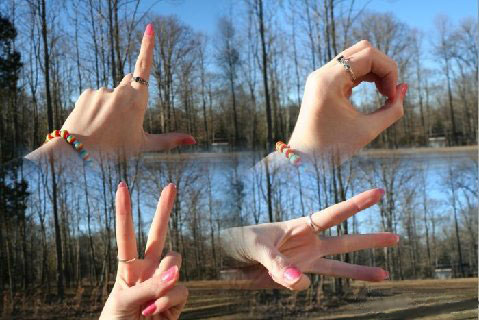 © Kayla D., Croydon, IN