A Winter Can Change A Lot: Chapter 1
January 16, 2011
We were driving up to the house. I saw the family run out. I saw the father, the mother, the daughter, then the son. My mother in the front seat waved at them. She smiled. I then put my whole attention tithe family. The father I knew was a professor. He looked like one. He had only a small bit of gray hair. The mother had very dirty blond hair and soft blue-green eyes. The daughter had the same colored hair as her mother but her eyes were a clear blue. She was two years older than me. Then, last, the boy. He had dark brown hair with green eyes. He was the same age as me. I hated him.

It wasnt the family I hated. The parents I could never hate and the girl was nice. He was different. He was obnoxious, incorrigible, rude, and a flirt to any girl who would flirt back. So I had a good reason to hate him. He hates me also. That is no loss. But we were now parked. My mom got out I slowly followed.
My mom hugged the parents and the girl. The boy gave her more of a semi-hug. I got out of the car. I hugged the parents, I semi-hugged the girl. I slowly hovered away from the boy. He also hovered away. We were acting like one of us (probably him) had the plague. The parents, Jennifer and Dave, led us into the house. The girl, Lizzie, followed with the boy, Josh.
The house was a soft yellow, a three story (including the attic), and a white rap around porch. It was January, in Vermont. We had helped them choose the house by happy colors outside. Inside is more wintery. I love it here. I love my room the most.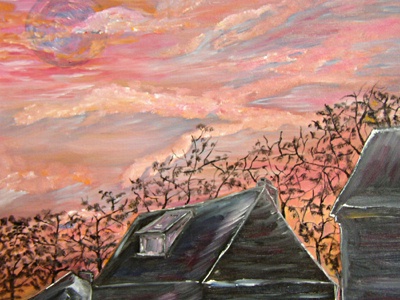 © Lauren M., Scotch Plains, NJ