Ribbon Hearts
December 29, 2010
Her long brunette hair was very beautiful. I just love the smile she has and the twinkle in her baby blue eyes, 'specially when it comes to dancing. Her love and pride. Dammit Ruthia, why must you be so sweet?

I remember the day she ran into the bakery with her ballet uniform still on and tears in her eyes. She looked very upset. In fact she was very upset.

"M-ma-Madame ch-chose a-a-a… P-p-perseco-om to be the lead for the Nu-nutcracker….!" She spilled out of her heart after her first fit of bawling. Never had I seen her like this before. I started to feel horrible because I said nothing to reassure her. I thought of something to say, then assuring-ly I replied.

"Here Ruthia, take my sweater," I handed her the maroon sweater to make sure she was warm, "Go get dressed, you're still in your ballet uniform. It's ok—"That did it. She flipped a switch and started going off like a machine gun.

"NO!!! It's not 'ok'!" everyone looked up from what they were doing to watch us fight like a married couple, "That lady knew that I was her best student! I deserved that role in that production! And she knows it!!!" before leaving the bakery she kicked over a chair, leaving behind her duffle bag filled with her clothes. She ran out of the door and out into the street without even looking. I got a bad feeling, and then I saw it. A delivery truck headed right for Ruthia. I started calling her name, but she was so pissed off she didn't even bother to look back, or over.

"Ruthia! Dammit Ruthia get back here now! Don't—"but it was too late. By the time I had started after her, she had already been hit by the truck. The driver was freaking out, and Ruthia was on the ground bleeding profoundly. Her right arm and both legs were mangled into a mess that looked like it was unfixable. I started screaming with agony. With tears welling up in my eyes, I started sobbing and frantically calling her name. As if to save her. I barely took note of the frightened screams of people around us, and the cursing and swearing of the truck driver. Soon the distant sound of wailing sirens appeared. They got closer every second, and then finally after what seemed like forever, they came and took my precious Ruthia from me. To save her life.

"Doctor! Please doctor! Tell me, is she gonna be ok?" I kept asking the unanswering doctor, until finally he replied.

"Yes she will be. However, she must amputate her legs and right arm and replace them with artificial legs and arms. The legs will be robotic, like a persecom, and will most likely save her life," Was his final reply before I heard a frantic yelling of my name, followed by agonizing pain. I yelped with fear and sprinted my fastest through the halls, almost knocking into several persecom nurses, to get to her room.

"Dammit Ruthia! Wait!" I yelled through my teeth while I was running. Almost there. Few feet. SCORE! I made it into her room and immediately started calming her down. Explaining everything along the way.

"Ivan!" She cried out in relief, "What happened Ivan? Why am I here?" She suddenly looked down and saw the bloody mess of her legs. She started crying again. I don't even think she took notice of her hair, which had been cut in order to get her up from the ground. I hoped to god she wouldn't take notice of it now, she would freak out really badly.

"Calm down first Ruthia," she nodded her head, "Ok, you ran out of the bakery last night and got hit by a delivery truck. Ruthia, please watch what you're doing!" and I almost ran up to hug her and tell her my true feelings, but then I remembered that she was injured. I will never be able to tell her that I love her… Her hair was still blotted with the blood of last night's accident. Though it was shorter, I continued on with what I was saying, "You know, the doctor says if you want to live you must get surgery… "Her eyes got really big with fright.

"W-what? To live?" I just took notice of the black eye she had, I also noticed the several deep gashes she had on her face. I was about to cry. I loved her so much and I hated seeing her like this… Then it hit me. It was my entire fault that this had happened to her. Why didn't I even run after the girl I loved to save her? Why didn't I run out and get hit by the truck and get hurt or perhaps even die for her? I feel like a huge piece of crap right now… Because I am. I Ivan H. Enova am worthless.

"Y-yes… Ruthia? I think you should do the surgery," I firmly told her

"Huh? Why? Why should I live when –"She started saying

"Ruthia! Don't you ever say that! Ever again! I don't want to see you die. I don't want to see you stop walking or dancing, your love and passion! I don't want you to give up anything Ruthia… Because… I love you! I love you so much and don't want to see you die! Please… please…" I started tearing up by that time. I told her my feelings. Now if only she loves me… She blushed fiercely, and then looked up at me.

"Ivan? Do you know how long I have waited to hear those words come out of your mouth? Years. I'm 18 years old and ever since the 7th grade I have loved you. I didn't want to say anything for fear of embarrassment… but you love me too…" she placed her hands over her heart, and then started crying. I went and gave her a hug; she winced a little from the pain, but then gripped harder. She loved me as much as I loved her. And I am not letting her go for the world.

"I am doing the surgery, Ivan. I'm not dyeing for anything or anyone but you. I promise you that. And as long as I am bound to you, I am bound with a ribbon heart. The strongest heart there is. I love you Ivan Enova!" Then she closed in on me and kissed me with intensity. This was gonna last a long, long time.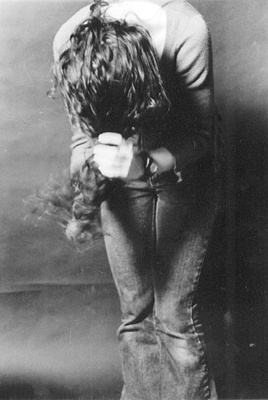 © Cerys W., Marblehead, MA