Worlds
December 3, 2010
She can't see him. But she knows the feel of his rough jaw, soft after a shave. She knows the texture of his hair. Soft, wild, unpredictable. Just like the man sitting next to her. Her friends tell her he has amazing brown eyes. She chooses to trust them. She knows his laugh. But most importantly she knows his voice.

That deep voice. Most people her age like rock/punk, but if he starts a romantic ballad, then even the guys can't resist smiling. That voice guides her through life.
It tells her what she can't see.

Their worlds are different, as they sit on a bench. He can see the birds, the grass, squirrels and swings.
She hears the chirping of the birds and the squeaking of the squirrels, and the swings creaking restlessly in the breeze. She can smell the damp grass.

She smiles as she remembers that night, a year to the day.
They had been sitting on the same bench, when he had asked her out. "I can't see. I'm blind!" she had blurted out. "I don't care…"he had gently whispered.
After that the bench had become a symbol of a mix of two very different worlds.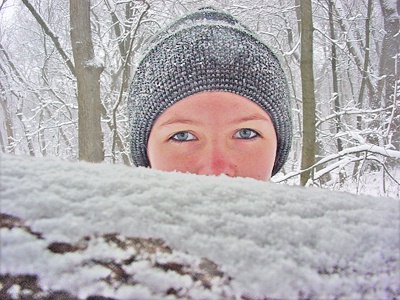 © Greg K., New Lenox, IL