the guy next door
September 22, 2010
Patricia is the name, and **** is the name of my annoying neighbor.
Everyday when I come back from the grocery store were I work, I see him going out, down the stairs with out even saying hello, or just a hi, or even just a smile, he does nothing. And I, well I am not going to say hello if he doesn't.
I entered my apartment , turned the tv on, poured some soup in to the bowl , and sat down and watched oprah. When it was done, I stood up for a while . stood up doing nothing, I didn't know what to do, I wondered what will he be doing now, I never knew where he worked, so I decided to go for a walk.
I put my boots on, and wore my coat, and got ready for my walk.
As I was walking , there was a pastry store, that had some delicious doughnuts , although I was on my diet, I entered and said "a doughnut wont do anything". As I entered the store, there he was , the guy next door, standing by the counter . I wondered if he will greet me in the store, if he will say welcome , or hello ….
Well , when he saw me he became red as a tomato , and he didn't know what to do, he was I don't know, he looked kind of weird. I ignored him , and went to the guy next to him and told him "hello, may I have peanut doughnut"
He smiled and said "of course"
He took a doughnut , wrapped it with a paper and gave me . I opened my wallet , and took out a dollar, and when I was about to give him the dollar, he said "no, I wont take it, this doughnut is a gift"
I smiled and said "a gift, well what can I give you for a return gift"
He laughed and said "how about you got to dinner with me, tomorrow, at about let say 7:00 pm, or 7:30 pm, so what do you say"
I said "ok, but where?"
He said "it'll be a surprise, why don't you be here tomorrow at 7:00 or 7:30 and I'll take you, ok"
I nodded twice, and as I was by the door , I turned and said "thanks again for the doughnut"
As I walking back home, I realized, I didn't know his name, so I went back to the shop, he laughed and then I said "you forgot to tell me your name"
He said "well, my name is Raymond , you can call me ray, but what about your name?"
"patricia"
I left the store and went back home, in my apartment, I was so happy, I am going on a date. But I wondered , why did the guy next door acted weird, he dropped all the papers in his hand, when entered. WHY?!?
Well it is his problem, i am going on a date with his friend.

THE NEXT DAY
I woke up as usual , had my usual coffee and went to work, I came back at about 6:30, and saw him the guy next door going down to the doughnut shop, I entered my apartment turned the TV awaiting oprah, and as I was listening , I was also choosing my outfit, I had tons of cloths on, until I decided what to wear. A pink dress, with white heels and a small pink satin bag.
I wore my coat, and went to the doughnut shop, there he was his gray eyes sparkling as always , the guy next door, and there was Raymond, handsome .
He smiled , and said "shall we"
I said "we shall…."
He lead the way, and we reached to the beach, there was a restaurant near the beach we sat there, all our discussion was about the guy next door , it started this way.
R-Raymond
P-Patricia
P : what is your friends name, the guy by the counter.
R : oh, his name is Jacob, his my pal.
P : he is also my neighbor.
R : then, how don't you know his name ?
P : well he never says hello, he is always by himself… we never talked
R : oh, so you are his neighbor, the girl next door.
P : well yeah.
R : oh my god, I shouldn't be with you on this date.
P : why?
R : well , uhh I don't know how to tell you this but Jacob kind of has a crush on you, and his my pal so you know…
I started laughing , and said "crush on me, why didn't he say a thing"
R : well you never said hello, so he never could say hello
P : I was waiting for him to say hello, (I started laughing)
R : so you have a crush on him also?
P : no, I don't, I just wonder about him, how he is like? You know, he is my neighbor I should know him more.
R : well, you don't like.
P : I don't know him to like him, but I might if I got to know him better.
The rest of the conversation was about Jacob, and about me….
I don't it was a date, as I was going home, up the stairs, Jacob was also going home, when I was about to open my apartment door, he said "hello patricia"
I was surprised, he knew my name, obviously his friend told him. I said "hello Jacob"
He smiled and said "do you want a cup of coffee?"
"ok"
I entered his apartment for the first time , it was so neat and tidy I bet he was a clean freak .
He said "come on in, don't worry. I am not a clean freak"
I laughed , it was as if he reads my mind.
The cup of coffee was ready in no time, he came and sat next to me…
And we started talking, he told me everything about him, every detail, and so did I. I looked at my watch it was 1:00 pm, he said "wow, time moves so fast"
I said "well yeah it does, I better go to my apartment, I need a good night sleep."
He walked me to my apartment,holding my hands, meaning 2 steps. At my apartment door, his lip fell on mine, and he kissed me and I kissed back.
The first kiss from the guy next door, after the kiss he said "that is the best kiss ever"
I said "it is…"
He then said "can we have dinner together , tomorrow?"
"of course, it'll be my pleasure …"
…………
This is it , the story of the guy next door….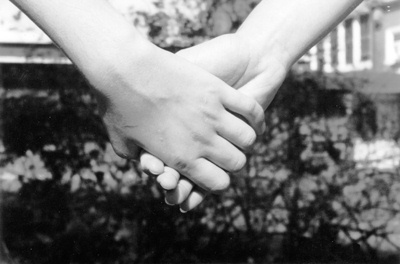 © Lauren G., Pompton Plains, NJ