A Special Moment
September 1, 2010
"Everything is going wrong Jake," I sobbed, "first my friends desert me for cooler ones and then..." I sobbed louder.

"Everythings going to be okay Jessica," he reassured me.

My life had been going wrong ever since Sadie deserted me, I thought. Sadie Wilkins used to be my best friend. After she left me for more popular people, all of my other friends went with her. My mother was the only one there to comfort me. Then, she died in a car accident and my world came crashing down. Now Jake, my boyfriend, is the only one I have left.

All I could do was cry and cry into the shoulder of Jake, who was patting my back reassuringly.

"I'm sorry," I said, "you must think I'm an awful baby." Only sobbng harder. We were sitting outside in my backyard and the stars were brighter then ever. A chill went down my back as he put his arm around my waist.

I turned my face toward his and stared into his deep blue eyes. I could feel his warm breath on my face. I knew what was happening about a second before it came. We moved closer and closer together until our bodies became one. I felt his soft lips on mine and though it only lasted a second, time seemed to freeze, and I wanted to stay there in his arms forever.

It was our first kiss together. Everything had changed, everything was different. I was a little scared, but ready to embrace it.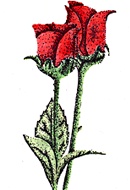 © Sarah M., Phoenix, AZ