A Kiss in the Rain
August 28, 2010
She sees him standing there…waiting…
He has been watching her intently for a long time now, and it has started to bring forth sweet feelings the girl had no idea she was capable of.
She goes through all of her classes and sees him there, close to her—gazing at her when he thinks she isn't looking.
Love surges forward in her heart.
She sees him on her way to her locker and when she leaves the school into the warm summer day and the love burns brighter.
She sits on a bench with her binder in front of her, hoping not to be too long because the weather changes sporadically.
He doesn't know.
He doesn't know that she dreams of the day she will get the special first kiss, the love she feels toward this boy... it is deeper than anything she has ever felt before.
Maybe it would be a magical moment in the rain…
She lets her thoughts trail off and doesn't notice when her pencil moves across the blank paper in front of her, spelling out her deepest wishes.
She doesn't notice when the boy watches every word she writes down.
The next day, she doesn't see him waiting.
She doesn't see him while she goes through all of her classes, gazing at her the way he did before.
She doesn't see him on her way to her locker or when she leaves the school to go home as the dark clouds start to appear. Halfway home, the drizzling of raindrops begins and as if some part of her were jealous of the rain, the tears begin to fall. They slide silently down her cheeks.
When she enters her house, she goes straight upstairs, sobbing deeply into her pillow at the heavy feeling in her heart. He had never missed a day with her, snowy or windy—rain or shine.
These thoughts just make her sorrow deepen.
As the rain patters gently onto her window pane, the steady rhythm calms her and she keeps track of it to keep from crying again.
An abrupt change in the rhythm startles her.
There is a loud clattering against her window that is completely out of place and she stands, moving toward her window to peer below.
He is standing there, pebbles in hand, with a gorgeous smile upon his face as he beckons her outside. She nods and in but a tee shirt and jeans, she runs out the front door.
When she gets outside, the raindrops blur her vision along with the familiar sting of warm tears. Before she can get a word out, he pulls her to him and kisses her, long and passionate.
As they pull back, foreheads touching, he whispers the three words she has longed to her entire life.
"I love you."
She manages to tell him the same before he crushes her to him in another deliciously warm kiss and for once, her world is in order.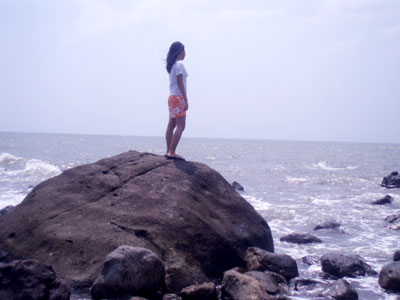 © Grace L., Bacolod City, Philippines