Malibu Pier
August 2, 2010
She stared intently at the clock . Tick ….Tick … Tick … the clock always seemed to go so slow . One minute would pass by and yet to her it would feel like hours.
The bell rang .
She jumped up from her seat , and sprinted to the door. She ran outside ,stopped then she looked up at the clear blue sky , and took a deep breath in. A big smile broke across her face.
It was summer . No more classes, no more high school . Just the summer air surrounding her , and the blue sky with clouds that looked so soft like cotton candy above her head.
She was free.
She ran , feeling the breeze on her face , through her hair , and on her skin. It made her feel real , it made her feel happy . This would be the best two months of my life , she thought. At school , she felt invisible , trapped even . But now , she felt like she could be anybody .

As she started to slow down , she reached the pier . She loved coming here , she adored watching the beautiful waves break on the shore. She loved listening to the calling of the seagulls , to her the noise was calming .She could sit here for hours. Sometimes she did just that , she would get lost in her daydreams . To her , they seemed better than reality , she wanted to stay there - and never to wake up. Unfortunately most days she was awoken from her wondering thoughts by mindless teenage boys shouting about who can eat the most hamburgers , or by girls giggling loudly over something that she was sure wasn't that funny .

She was excited .She looked out onto the deep blue and turqouise sea , and wished for something to go right this summer . She longed for something to happen that would take her breath away , something that would make her heart race in excitement , something new .

A few minutes or so later , she felt a body come near to her . Without looking round , she tried to make out who the figure next to her was . It was useless though so She stayed silent . She was nervous… Who was it ? What did they want ? Were they going to mug her ? She tried to slowly move away to the other side , when the figure said
" It's nice to come here to clear your head sometimes . I come here a lot. And I know you do to ."
She looked up to see a boy watching her intently . She was about to reply but she gazed into his light hazlenut coloured eyes and got lost inside them. Their beauty was mesmorising , she had never seen such eyes . She tore herself away from his gaze , and just about managed to reply : " Um , yeah I guess …wait er how do you know that ?"
He could see that she was worried just by looking deep into her eyes.
" Sorry," he said cautiously , " I didn't mean to sound stalkerish. I've just noticed you a few times here before . You looked so calm and so peaceful , so I never wanted to disturb you before . I'm Ben ."
" I'm Lily , nice to meet you Ben," she replied softly .
His voice was deep , yet soft and calm .
He held his hand out , she looked at it , it looked so soft ,and so warm . She couldn't believe it , she was analyzing his hand ? But she couldn't help herself .
She gently reached out for his hand , and when they touched , it felt like some sort of magic was created .It felt like a spark . She blushed and quickly pulled away .
" So ," Ben said , " Are you from around near here ?"
" Yes I live about ten minutes down the beach ." She had a million things she wanted to say , a million questions for him . After a short pause she was able to say,
" What about you , I haven't seen you around here before ?"
" That is probably because I'm not from around here ." He smiled warmly . " I moved here a few days ago , I'm visiting my gran for the summer."
Lily couldn't really believe what was happening . He seemed so perfect yet so real .
Her thoughts all suddenly became tangled up in a giant mess , her stomach was jumping around like it was on a trampoline for the very first time. What was happening to her ?
" That's nice , I'm sure you will really enjoy it here ."She said gingerly trying to smile without looking to eager .
He watched her intensely , and when she smiled , it seemed unreal to him . He complimented her : " Your smile , it's like something I have never seen before . it's magical , you should smile more often ."
She could have lost herself in his eyes , his face , even his words sounded beautiful to her. She blushed .
" Thankyou , um I like yours to ." She responded and then felt embaressed by her awkward reply .
He laughed . It was almost a giggle . Not like anything she had heard before . It sounded so natural , she longed to hear again.

He stared at her . She was not like any girl he had met before . Her natural beauty was electrifying to him .He could feel the tension , the emotion , the passion . He felt like sparks were literally flying between their bodies .
He loved her eyes ,they were beautiful , dazzling , remarkable . Something inside of him knew that he wanted to know this girl . He knew one thing , he HAD to see her again . He HAD to know her.

Her phone broke the silence between them . Though it wasn't an awkward silence that had been broken , it was the best silence she had ever experienced. She laughed at herself at that thought .
She picked up her phone : " Hello?"
"Hi lily , it's mum , where are you ?"
" Hi mum , I'm at the pier ."
" Lily , it's nearly dark , I need you home now before dinner ."
"Okay , I'll see you soon . Bye"
She was upset that she had to leave him , she was upset that she would miss their silence even .
" I'm sorry , it was nice meeting you but I have to go now." She spoke these words wishing she didn't have to .
" Oh , okay , I'll see you around then ?" Ben replied , something in his tone sounded hopeful .
" Yes , see you around ." Lily smiled and walked away .
Her emotitions ran wild as she walked down the beach , into the sunset . She had never experienced anything like that before . She knew one thing was for sure . She HAD to see him again . She HAD to know him .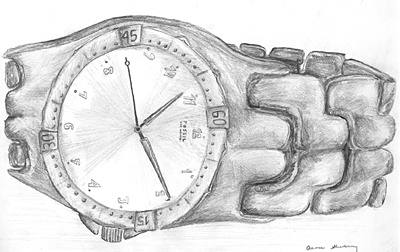 © Aaron S., New City, NY