Eighth Grade First Dance
July 2, 2010
A smile was on my face as I smoothed out the last of the wrinkles on my blue, pocket dress I was wearing. My pocket dress was not ordinary, it had been custom made for me. The dress was blue silk, with black and pink sparkles dancing across, the blue was a dark blue very close to black, and it was a one shoulder. This was my first eighth- grade dance, I was determined to look beautiful. My used to be boring brown hair was now highlighted with blonde and I used a special shampoo to make it shine. The straight hair was done in loose curls and my shoes were silver high-heels that had straps leading to right above my ankles. Silver hoop earrings hung down from the holes in my ears, and my makeup was done just right. The shadowy eye shadow made my green eyes pop, and the black eyeliner made them stand out more. The mascara made the lashes so long they almost touched my eyebrows. My blush was a plain beige and it didn't do much for me. My red lipstick really made my whole face beautiful. The thought had been to make everything dull looking so that my eyes and lips would pop.
I admired myself one more time before I grabbed my silver purse and headed down to my mom's silver SUV. I told her that she could drop me off right before the door. I did not want her to be an embarrassment. When I was in the car I pulled out my phone and texted my boyfriend.
'Hey, on the way to the dance' I texted him smiling.
'Great, I'll see you there' He texted back. I smiled willing the car to go faster. I couldn't wait for the dance. It was going to be perfect. I would slow dance with Hansen, and fast dance with him and all my friends.
When my mom came close to the door I told her to stop and got out. I smoothed my dress one more time, and walked with my heels clicking towards the door. A couple kids walked behind me, and when I finally entered the door I was shocked. The hallways were turned into a Hollywood Blvd. scene and the auditorium was dimmed and made into a perfect dance floor. I smiled when my friends waved at me and I sort of pranced towards them. I hugged them all and I went up on my tip toes to see if I could spot Hansen's head. "Hey have you seen Hansen?" I asked my friends still peering over the heads. They all shook their heads and I frowned. A fun upbeat song came on and I started dancing with my friends. I danced for the next 5 songs and I started to worry about Hansen. I told my friends where I was going, and I pushed through the crowd to the door. I walked out of the dance room and towards the door. After pushing the door open the cool breeze hit me. It was 8:30, and the dance ended in an hour. I pulled out my phone and dialed Hansen's number. The phone rang 2 times and then went to voice mail, he rejected my call. I tried to smother a sob and tears ran down. I wiped my eyes and walked back in. I went to re-apply my mascara. When I pushed open the bathroom door I walked around the corner rubbing my eyes. What I saw before I walked to the mirror was shocking. "Hansen!!" I yelled, Hansen was kissing Alyssa, the captain of the soccer team. Hansen's head snapped around and so did Alyssa.
"Paige," He said.
"Forget it," I said . I ran out of the bathroom and towards the door. When I reached outside I dialed my mom's phone and practically screamed at her to come pick me up. She understood and said she would be there in a minute. I sat on the bench, me and Hansen had been dating since 5th grade, kinda young but still. Tears ran down my face and sobs poured out of me. My friends came to look for me and found me, they put an arm around me and asked what was wrong. I managed a few words, Hansen..Alyssa.. Kissing. Those 3 words were the ones able to escape my mouth. They waited with me until my mom was coming to pick me up. They helped me into the car, and I shut the door. My mom drove away and I stared back with tears blurring my vision.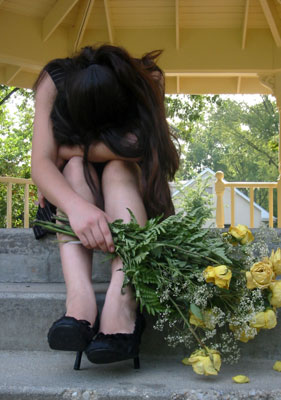 © Martha V., Morton Grove, IL