Over Used
June 12, 2010
I have a secret. It's very cliché. Secretly, I'm in love with my best friend. Really cliché huh?

You hear every girl saying this. It's doodled inside of the covers of millions of diaries. It's the story behind every teen romance novel. It's not very original. This is what I base my existence on, being original. I don't like this feeling of non-originality at all.


But how can you resist it? If you know please tell me cause I'm sitting here clueless and it scares me. I'm not the type to be clueless. Give me an algebra formula, the hardest one you know and I bet you I can finish it before you finish reading this story. But give me my own feelings and I haven't a clue.

Ever found yourself asking when chivalry died? It didn't die. It was given to him at birth. Such a gentleman he is. Those eyes just can't seem to lie or insult. But other than that he's just a normal guy right? Just the average black haired brown eyed kid you'd see on the playground. Then why is it that he makes me so confused? I know he doesn't mean too but it's really messing with my sanity at the moment.

This isn't what they call unrequited love now is it? If it is please shoot me down now. I've heard all about that curse bestowed upon unsuspecting girls. I don't think I could bare that. I'm not all that strong you know.

I don't know if I'm ready for any of this. I think I'll just continue to sit here and listen to him talk. Just listen to him babble on about lord knows what and act as naïve as I can. Then again I was never a great actress. So maybe I'll just hope he's still as oblivious as he always was. That should work. So instead I think I'll just sit here and watch him be as oblivious as always and pray to god my love stops dead in its tracks.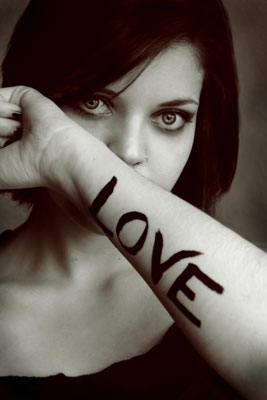 © Michelle B., Blairsville, GA