Not Long Enough
May 11, 2010
I was hit on for the first time a couple Saturdays ago. A jittery feeling floods my whole body and stays there, it warms me, it fills me. I can't stop smiling and thinking about his face and the way it looks in the sunlight; it's beauty, even with it's small imperfections, is irrisistable. While I think about all this... This power, and can't help thinking, how long will it last? The question that follows every great day, great person, great event, great time, great anything and the useless hope and wish that the fun will never end.
He stood in the sun with his lanky self, watching over a kiddie game which included tying a bungee cord to your waist and running as fast as you can in one direction until you're shot backwards into the moon bounce floor. He was tall. His skin was the color of oak wood and his hair was light brown like wet sand. He is shy at first but not terminally so. I ask if he'd been here the whole day and he responded, short and sweetly, "Nope", and laughed, "I just got here actually." I notice his high school sweatshirt labeled with the name of the high school where the carnival is located. A thought tickles me in the back of my mind, he doesn't know who you are, and none of your friends are here to give it away. We stand in silence for a moment or two, but the quiet isn't strained or awkward and is filled with children screams and laughter. I watch a particularly small Chinese boy run at his top speed away from where the bungee cord is hooked and topple backwards on his return. I laugh under my breath at his clumsiness and the boy watching over the children glances at me, I consciously turn my head to face him and he quickly turns away. I continue to look at the side of his face until he looks my way smiling.
"What?"
I ask him if he's tried the bungee game and he says it would be too embarresing. I notice the freckle by his nose and the way he looks down when he's done talking and the small smirk that quickly passes over his face. I laugh and look back at the child struggling to attach the hook to themselves. He leaves my side and helps the child. Then goes back to standing by the ride, a safe ten feet away. A few minutes pass and I alternate between looking at the children and the boy from high school. He walks over to me and asks if I'm going to hang out with him all day and look at the children and aren't I bored, I laugh again and tell him that I don't know if I'll stay or not, but that I'm not bored. I notice the flicker in his eye and the shine to his hair and the way he quickly licked his lips when he was done talking like his lips were chapped. My friends are making their way toward our side of the carnival. I leave and return throughout the day but our snipits of conversation are nothing more exciting then reading the end of a book for the tenth time, new things learned and noticed everytime, even though the general idea and questions remain the same.

And by the end of writing this piece I've figured out the answer to the question I was trying to find the answer to, for myself, that I'd asked at the beginning of all this, a couple Saturdays ago. How long will all this last?
The answer is: Not long enough.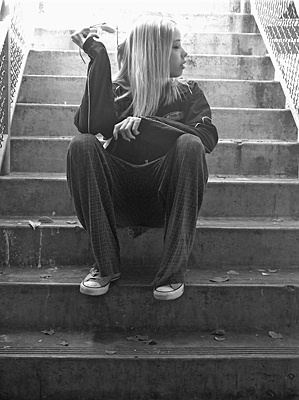 © James M, Walnut Creek, CA