Prophecy chapter two part two
April 13, 2010
Chapter 2
A new friend

I got up at nightfall even before Abby came in to yell at me. I got dressed and leaped out the window, hoping to see Angela do the same. Instead, I saw her brother and not her. I caught up to him and asked him where his sister was.
"She's sick today." He said curtly.
"Oh." Does he hate me too?
"I guess it was from eating all that food after skipping three meals. What's your name? As long as you're going to be in the night classes, you might as well tell me your name."
"Gabriel."
"Mine's Jake."
We talked the whole way there and he really didn't seem to hate me anymore. He sounded tense just to be around me at first, later he seemed more like a friend. Many people saw that we could talk and have no problem with it, others jeered and taunted. Jake must be a huge influence to them because when they saw him they stopped whatever it was they were doing and apologized like crazy.
I the middle of the night, I fell asleep in class and had another dream. I was standing on a cloud again. I was staring off into the endless sky watching everything move slowly, majestically. I felt that Angela was on the cloud too, calling my name, I turned my head. However, before I saw her, a voice started screaming her name from everywhere. The cloud gave way beneath my feet and I jumped and flew away. She began calling my name, repeatedly. A hand came smashing across the back of my head. Jake was there and he hissed,
"Pay attention if you want to survive in this class!"
I rubbed my bruise and punched him in the arm with my free hand. After class, I decided to talk to him again.
"Hey Jake."
"Yeah?"
"What's your opinion on my kind?"
"I used to hate their guts, but when you showed up it got me thinking. Maybe our differences are only skin deep."
"Maybe."
"You're the only Risen that I've ever gotten the chance to know."
"I'm not surprised; we all attend the day classes."
"Speaking of that, what are they like?"
"What?"
"What are the day classes like?"
"They aren't all that different from the night classes actually. It's just during the day and there are different teachers."
"I thought that the day classes were really different."
"I thought that the night classes would be really different."
He gave me a slap on the back and I gave him a punch in the arm. I could hardly believe that I had made a friend with a Fallen. However, before this I had never quite gotten to meet one before either. The teacher dismissed us and I asked Jake what all of Angela's favorites were. He told me that she loved moonflowers, strawberry cream chocolates, and compliments.
"Why do you need to know?" I almost blew it for keeping it a secret,
"J-just because we need to talk about something else." Worst lie ever.
I went to a fancy chocolate shop and a flower shop and then to a store that I knew had greeting cards. I signed the card and put the whole package on her doorstep. I knocked and ran. I got behind the house just in time to see her open the door. She was thrilled to see that I had left gifts on her doorstep. I'm not so sure that it was because I had left them or that it was the fact that it was free stuff. When Angela slammed the door shut, I climbed in through my window. Abby was there and she looked disappointed in me somehow, she just shook her head and walked out. Had she seen that I like Angela? I hope not. She has a mouth like a torn pocket; everything comes out even if it isn't true. I worried about it for the rest of the day. I even missed a meal. In the end, I still didn't feel any better about my sister's sudden appearance.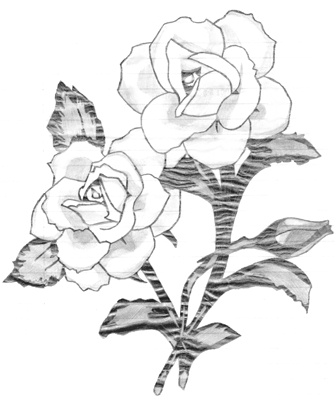 © Christy P., Providence, RI