EC-AM=Heartbreak Chapter 12
April 9, 2010
February 16, 2010
11:30 a.m.
Evalynne's House

I cautiously stepped inside of my house, ready for my parents to start frantically screaming at me any second. Instead, they both rushed up to me and wrapped me up in their arms. Mom was sobbing and telling me how glad she was that I was ok. Dad was silent though, enveloping me tightly in his strong arms.
"You had us scared to death, Evalynne!" Mom cried. "What were you thinking running off to Michigan?"
"I was thinking that I didn't want Cole to leave, so I followed him." I replied.
"So you're saying that you disappeared for an entire day just because of a boy?" Dad demanded. "You aren't even dating this boy. I thought he was just a friend."
"He is." I told him, my heart sinking as I did so. Mom must have knew something was wrong, because she wrapped me up in yet another hug.
"Come on," she said. "I'll make you some lunch and then we can sit down and talk about this."
She guided me into the kitchen, where I took a seat at the table, silent. Dad followed us and sat down across from me at the table. He had sensed something was wrong by now and was looking at me with concern clouding his eyes.
Soon enough, Mom placed a peanut butter and jelly sandwich down in front of me and sat down in between Dad and I.
"Alright, what happened in Michigan?" she asked me.
"I met Cole's girlfriend." I informed her. I was in no mood to explain all of the details to my parents.
"Anything else?' Mom inquired. When I didn't respond right away, she looked into my eyes as if she were searching for the answer. I could tell that she knew there was something more, but I wasn't ready to tell her yet. After what happened when I explained things to Kristy, I was in no condition to retell the full story again. "So that's all you did in Michigan?"
"I met his dorm mate and his dorm mate's girlfriend too. And then we went out to eat." I told her.
She pursed her lips, knowing very well that something bad had happened. Something that I didn't want to talk about, but that she would get me to tell her anyways. "Why did you follow Cole back to Michigan?" she asked me. "Do you still have feelings for him?"
I bit my lip, peeling the crust off of my sandwich. This lack of response seemed to be answer enough for her though.
"I'm sorry he doesn't feel the same way, but you can't let it get to you. If he actually believes that some other girl is better than you in any way, shape, or form than he's not worth your time. He doesn't deserve you, Evalynne." she assured me.
Dad's brow knit together, clearly puzzled. "Wait a minute," he said. "Am I missing something here? Are you and this boy, Cole going out or something? I thought he was just a friend."
Mom sighed, turning to face him. "Richard, why don't you go upstairs?" she suggested.
"But I want to know what's going on. If that boy hurt you, Evalynne, then I'll deal with him. I'll fly out to Michigan right now and teach him a lesson!" Dad replied, getting all fired up.
"Dad, it's fine." I promised him. "Cole didn't do anything wrong."
He stared at me for a moment, trying to decide whether or not to believe me. "Fine," he muttered. "But if he hurts you, just let me know."
"I will." I guaranteed. I'd have said anything just to get him to go upstairs.
Luckily, on that note, he walked out of the kitchen and traipsed upstairs, leaving Mom and I alone to talk.
"Ok, now that he's gone, tell me what happened." Mom said.
"Well, I think I might still be in love with Cole." I began. "So I followed him to Michigan to try and sort things out with him. But he got all mad at me and started yelling and screaming, because he thought I was just playing games with him. And he had every right to think that too. I chose Ash over him, and there's nothing I can do to change that now. Now he has a girlfriend that he really cares about."
"I'm sorry." Mom said to me sympathetically. "But like I said, if that's how he feels, then he doesn't deserve you."
I sighed, "Yeah, Kristy said the same thing."
She nodded, "Well it's true." I didn't think it was true at all. Cole deserved to be happy, and if I didn't make him happy, then I didn't deserve him. He'd loved me before, he'd have gone out with me before, but I rejected him. And I didn't deserve him anymore. He shouldn't have to dump a girl that he really loves for me just because I changed my mind yet again.
"There's something else I have to tell you too." I added. "His girlfriend, Katrina Epperly, is Ash's ex."
Her jaw dropped in astonishment. "Are you serious?" I nodded in response. "Oh my gosh!" she cried. "How did that happen?"
I explained to her how they went to the same college and how his dorm mate's girlfriend was her best friend. I also explained what happened when I told Cole who she was, and how I kept them from breaking up with each other.
"You kept them together purposely?" she demanded. "But I though you loved Cole! I thought you wanted to be with him."
"I do love him and I do want to be with him. But I also want him to be happy. I know how much he loves Katrina. I could see it in his eyes whenever he talked about her. And I knew that if he broke up with her, it would only end up hurting him. And I didn't want him to go through that, because I know firsthand how much it hurts."
For some reason, her eyes filled with tears. "You're really in love with him." she stated. "And if you love him so much, that you would put his happiness before your own, then he's delusional not to choose you. I'm sure that girl, Katrina would never do what you did for him."
"It doesn't matter if she would or wouldn't. He loves her anyways. I had my chance with him and I blew it. He shouldn't have to pick me because I realized that I still have feelings for him. He has feelings too." I explained. I knew that my mom was taking my side because she loved me and didn't want me to get hurt. But in retrospective, Cole didn't deserve to get hurt either.
"You're being so mature about this. I just can't believe what a good heart you have. He really doesn't know what he's missing." Mom commented.
"Yes he does." I replied. "He's been with me before, and he's loved me before. Obviously, he has a better relationship with Katrina than he did with me. And that's not his fault. I don't blame him one bit."
She nodded, taking this in. "If you blame yourself, don't." she told me. "And I don't want you thinking that Katrina is a better person than you are either, because I'm sure she's not. When you were with Cole, Ash was also in the picture. That had an impact on your relationship with him. So yeah, the relationship he has with Katrina right now might be easier for him, but that doesn't mean he loved her more. Sometimes being with someone you love deeply can be difficult. And if he wants to take the easy way out and settle for second-best then it's his loss. If he's that pathetic then he doesn't deserve someone as loving and loyal as you." That was the third time she'd told me that he didn't deserve me. So why did I still not believe it?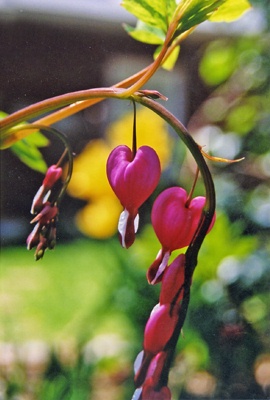 © Sophia E., Wilmington, DE