One gone, but forever love will stay
February 12, 2010
I stood there sobbing. My heart ached so bad that it felt like it was being hammered down. Not only that but there was drill drilling through the different layers of my heart. Now I had a huge hole in my heart.

The translucent tears fell and fell from my cheeks leaving a shiny clear streak that gleamed with the rays' of the sun. My black hat created a dark shadow over my eyes hiding the redness caused from crying my heart out. The wind swayed my black dress in all kinds of different directions. Then more and more tears came as the priest recited the words: "May he rest in peace."

My legs were shaking so much that it felt like they couldn't hold me anymore. I was about to collapse when the man standing next to me caught me in his strong muscular arms. I looked up to see the perfect crystal blue eyes sparkle. Compared to my horrible brown and red eyes right now his were the best eyes I had ever seen. He lifted me back up and continued staring right into my eyes.

Right now I was speechless. There were no words to how I felt right now. Maybe it was helpless. Just maybe I was going crazy. I still couldn't even stand up straight. He held onto me for about five minutes before I breathed deeply and finally stood up.

I breathed a couple more times and turned back facing the huge whole that was dug up right in front of me. Without warning more tears came streaming down. I just couldn't help my self at all. I was just way too depressed to put on a smile on my face-ever.

More and more kept streaming down especially when they put the oak coffin into the huge whole and began throwing dirt inside. Once they were done they out a marble stone on top saying "Mark Jones 1986-2010. May he rest in peace." Those words hit the trigger. Now my heart ached even more, then came a flood of tears and sniffles it was just too much to bare. My husband had just died and now I was all alone and without love.

I just couldn't move-not even an inch or even a centimeter. I had to stay here with him. I wanted to die with him. Right here right now I could have killed my self but a deep and rough voice stopped me.

"Excuse me?" he asked. I turned around to see the same man who used to be holding me. I just couldn't answer. He started raising his eyebrows with a questioning look. "Y-Y-Yes" I finally managed to say. "Well I was just wondering if you wanted a ride home since you seem well, not capable to drive." "W-W-Well yeah sure I guess t-t-that would help. I-I-I really do need some sleep." "Great here let me take your hand" he offered. "Wait I just need to do one more thing." I walked to the marble stone on top of my husband and laid my red rose just in front of it. I love you I thought while kneeling in front of him and shedding one more tear.

He now took my hand and led me to his car. He actually stayed in my house and took care of all of my needs. He was a true gentleman. At least I had someone left to rely on. For the next few weeks we talked and talked about what we like and our dislikes and things in common with that. He made me smile, especially with his cheesy jokes. Finally I had someone that made me smile since I lost the most dearest person in my life.

But somehow he made me feel good inside like all my worries were gone. He made feel like my self again just like Mark did. Ohmygosh was I feeling love? Yes I was he completed me and my broken heart. Did he feel the same?

After a few months we asked the big question to me: "Will you marry me?" Finally I thought, this is it. Now I realized I had never lost love. It was always there with me watching over me. It was Mark. I always loved him will my heart and now he wanted me to love again. For one last time I visited the cemetery and shed one last tear-of joy.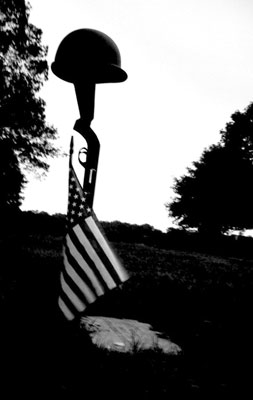 © Kristine B., Setauket, NY