Screams
January 24, 2010
I'd never given much thought to how I would die – though I'd had reason enough in the last few months – but even if I had, I would not have imagined it like this. With all that had been going on lately, I was half-expecting to die in tortured agony. Not that this wasn't torturous. In fact, I would have preferred dying listening to my own shrieks, drowning in my own blood. Not like this.


This – this right here was killing me. Hearing his screams was ripping me apart, tearing off piece after piece of what I was. I had to be dying. How could one be in this much pain and not be dying?


The voices stopped, the motion stopped, but the cries continued. And then they threw him out, next to me, on the cold hard concrete. I couldn't see him through the wall of tears streaming down my face. He was there, though. I knew because the screaming didn't stop.


There were so many things I wanted to shout at the men who had done this – so much I wanted to tell him. But my throat was blocked with hurt, and when I opened my mouth, nothing came out.


I couldn't look at him, couldn't bear to see him like this. So I lay my tear-streaked face on his chest and I screamed with him. I let our screams intermix in the air until mine was the only voice left. And then until there was no sound at all.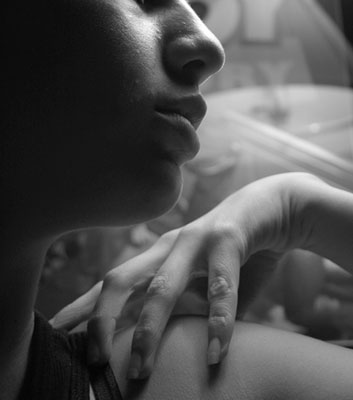 © Rebecca B., Santa Clara, CA