Frozen
January 19, 2010
Though the day is bitterly cold and there is snow slowly falling, there are still a good number of people who are walking along the same path through the park that I am. Couples, families, and lone joggers with dogs shuffle around me and each other, and through the small clusters of pedestrians in heavy coats I am able to clearly see the path ahead that runs perpendicular to my own. Out of the many faces passing me as I grow closer to the intersection, there is only one I notice. My blood is suddenly and completely converted into ice water. It is you.

I watch you pass by, able to follow you with my eyes only. I have frozen in the path, made myself into an obstruction around which everyone must travel, but I am certain now - it is you, and you look wonderful. You are as I remember, but better, because you are here, just a short walk away, in clothes I've never seen before and with a look on your face that I am probably imagining. It says, Look at me. I am here. I am the same but oh, how I've changed.

There is, I note with interest, no one with you – there is no girlfriend, small and lovely, linked to you, smiling in your direction even when you look away; you are alone, walking slowly, with apparently no intention of getting anywhere in a hurry. There are snowflakes in your hair – I do not brush them off because I know you are looking and I want you to see how beautiful -

No, I tell myself. That isn't true. She does not know you are here. She doesn't see you. She isn't looking. But I hope anyway, hope that you will somehow sense me and turn around, because my feet will not move one inch, let alone the many inches it would take to reach your side, and the several more it would require of my arm to reach and tap your shoulder and the few, though the repeated, that my mouth would have to engage in order to say the words that were now spinning through my head:

You are here, and so am I. What does this mean?

It means nothing, I imagine you saying. It means that you have held on for too long.

I have held on, yes, I tell myself, tell this version of you that is cold and walking away from me – but I have not held on to only this. There were others, I promise – others that I laughed with and shared meals with while thinking: Oh, yes. This. I remember this. I can be happy like this, but now I am seeing you and realizing that this is happiness too – it is the same, but it is older, wiser, the kind of happiness that curls up and sleeps in a warm, hidden place until I lead it out again and it shakes off its age, bounding with limitless energy around and around, encircling, electrifying, but not providing enough of a shock to get my dying feet to shuffle, even in the most ungainly way, across the ever-lengthening distance to you.

I was lost in my reverie, I realize, and now you have moved even farther away – you are traveling towards a busy corner where I will lose you, and this makes me run, run closer, catch up, stay behind you, feeling like a shadow-spy, a creep, with an arm half-extended in a plea for you to turn around so I do not have to do the impossible.

I loved you once, yes, the cold version of you is saying, waving hands carelessly in general gesticulation, eyes not on anything in particular, but I love another now. There is no one with me, I admit, but I am going to her. I am happy, and you are interrupting that. You turn away and start walking off once more, brushing roughly at the snow in your hair.

The present version of you has hands in pockets, snow on dark hair, eyes presumably locked on the sidewalk, and I admit that I haven't seen anything more lovely, more welcome, though I have loved others, and will love others again, if the odds are the same for us as for everyone else – I want you to know that I am doing everything I can, but it just isn't working, I apologize mentally to you. My arm won't quite touch - ­

You stop suddenly, and I am caught off guard. Though I have plenty of time to stop, turn, and escape behind a tree or wooden bench, I feel gravity, the Earth, my own body all going out of their way to shove me in a wholly unnatural direction – across the squares of sable sidewalk, through the yards of frigid air, and up to you.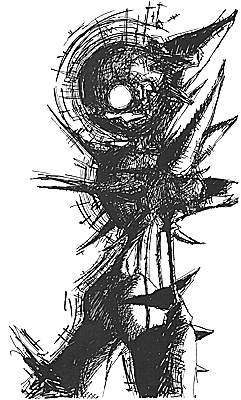 © Tag H., Galesburg, IL