EC+AM=4ever Chapter 26
December 29, 2009
June 19, 2009
1:30 a.m.
Kristy's House


I decided that it would be better to talk to Kristy face to face rather than over the phone. So I stood at her door step waiting for her to answer the door.

"Hey, what are you doing here?" Cole said as he answered the door.

"I actually came here to speak with Kristy." I replied.

"Well maybe we should make different arrangements." he said suggestively.

"Cole, you're doing that thing where you freak me out again." I told him.

He grinned impishly, "Come on inside and I'll get Kristy for you."

So I followed him inside, but once I was in, I noticed him locking the front door. I looked at him suspiciously.

He looked at me and said, "Oh wait, I forgot. Kristy isn't home."

"Cole, you need to be mature about this. Unlock the door, or else I'll knee you again. And I think we both know how well that turned out last time." I smirked at him.

But to my surprise, he smirked back. "Let's just put it this way, either kiss me or I'll tell the cops the truth."

"Just so you know, I just got back together with Ash today." I told him matter-of-factly.

"And I should care, why?"

"Well..." I trailed off at the end, not knowing what else to say. I thought maybe by telling him that, he would back off. But once again, I was wrong. Then an idea crossed my mind. I could always make him feel a little guilty. "Well if you care about me, you wouldn't do this."

"I do care about you. That's why I think you should dump Ash for me. It's what's best for you." he stated, sincerely.

"Who are you, Ash's mom?" I demanded.

"I'm serious, Evalynne. If he's already put you through this much pain, what makes you think he won't do it again?"

I was stumped. At that moment I hated Cole. But I also felt something different underneath that hate. I felt myself falling for him. He'd caught me off guard, but I had to get myself back on track. "Cole, if I kiss you, will you let me go?"

"No." he replied.

Now he was making me mad. "Why?" I cried. "Isn't that what you wanted?"

"There's more to it than just that."

"Would you just tell me what I have to already?"

"You have to end things with Ash." His words felt like bullets to the heart.

"Or else you'll tell the cops?" I asked softly, already knowing the answer.

"Or else I'll tell the cops."

"Cole, do you know why I stepped in front of the car that night of the accident?" I asked him.

"Because you didn't look both ways before crossing the street?" he guessed.

"No, because I wanted that car to hit me." I stated.

"Wait, are you saying that..."

"I tried to kill myself." I finished for him.

"Why would you even consider doing that, Evalynne?" he cried.

"Because Ash and I had ended things."

He stared at me for a moment, not knowing what to say. "He's really got you eating out of the palm of his hand, hasn't he?"

"What are you talking about? Ash isn't a bad person! I love him!"

"Yeah, well I love you!" Cole shouted.

"I'm sorry Cole, but I don't feel the same way."

"What about Katrina? Aren't you still upset about that?" he asked me.

"No, I forgave him."

He shook his head, "Don't you see what's happening here? Ash is doing all these things to hurt you and you keep giving him second chances. Yet, you didn't give me a chance at all."

"I just don't think things are going to work between us. I'm sorry, but Ash is the one for me. I'm sure there's someone out there for you too, but that person isn't me."

"Don't give me that crap!" he exploded. I took a step back. He was really angry about this. "I'm sorry." he murmured. "I won't tell the police, but I just wish you would at least give me a chance."

Then he unlocked the door and opened it up, stepping away so that I could leave. But I just couldn't get myself to leave him. It really wasn't fair that even after all that Ash did, I still gave him a chance and never gave Cole one.

"Do you want to go out to eat or something tonight?" I asked him. "It would kind of be a date."

"Kind of?" he asked.

"Ok, so it would be a totally and completely real date. What do you say?"

A small smile flickered across his face. "I'll pick you up at six."

I smiled back at him and stepped outside, but before leaving, I turned to look at him again. "Before I leave, I need to ask you something."

"Then go ahead and ask."

"Ok, could you try to get a hold of Kristy for me? I really need to talk to her."

"Sure," he replied.

"Thanks," Then I turned and left.

And when I got back to my house, I walked over to Ash's front porch and rang his doorbell. "Hey," he said, when he answered it.

"Ash, I've given you so many chances. And now I'm giving Cole a chance. We're going on a date tonight. So as of right now, you and I are not together." I told him.

"You gave Cole a chance?" he demanded. "Why?"

"Because he deserves one." I said evenly.

"I met with that priest yesterday." he said.

"What?" I couldn't believe that after all that had happened, he'd still met with the priest.

"I was hoping that you would change your mind. I'm desperate, Evalynne. I would do anything to have you back."

"Well then you'd better hope that my date with Cole doesn't go very well. Because if it goes good, I might even choose him. I was just talking to him earlier and you know what he pointed out to me? If you've already put me through so much pain, why should I trust you enough not to do it again?"

His eyes were filled with remorse. "You're right."

I was surprised by his answer. "So that's it? You're giving me up to Cole?"

"No. But you're right about that. You shouldn't trust me not to do it again. But you should know how horrible I feel about all that's happened. And you should know that if you do take me back, I'll do whatever it takes to make you happy. I can't change my past, Evalynne. I know I'm not exactly your perfect, cookie-cutter boyfriend, but I can't help it. That all happened before I even knew you."

I realized that what he was saying was true. It wasn't his fault that his parents were a bit messed up or that his ex-girlfriend decided to come back for him. And I shouldn't expect him to be perfect. "You're right."

"So you'll tell Cole that you chose me?" he asked hopefully.

"No. Just because you apologized, doesn't mean I have to dump Cole. He loves me too. And I'm beginning to like him. Who knows? Maybe you're going to have a little competition this summer."

His face fell. "Wonderful, for the half of the summer that I get to stay here, I'll be competing for you with Cole."

"What do you mean, 'half of the summer'?" I asked.

"I'm still going to war on July twenty-second."

"You're still going?" I demanded. "But your mom is in a coma, you can't just leave her!" My heart sped double-time just talking about his mom.

"Evalynne, I have a commitment to my country. I can't just drop out like that."

"But, what about me?"

"I'm sorry."

I shook my head, "It's not your fault." Then I sighed, "I have to go now."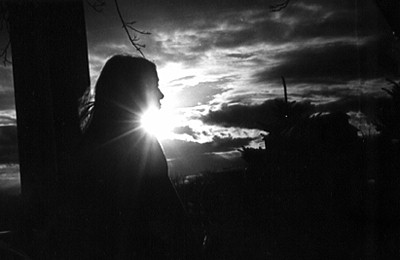 © Elizabeth G., Marblehead, MA