His Heart Part 5
December 17, 2009
When I awoke I was in my bed. I doggedly got up and dragged myself to the window, to soak up some much-needed sunshine. And I thought. About my heart. And Alaster's heart. And I ignored Shilio's pestering. Alaster was late when he walked in. He was very quiet, just staring at me.
"You didn't try to run off." He finally broke the silence. "The door, it was unlocked." He motioned to it with his hand.
"Oh" I said.
"You didn't even try to escape?" he seemed dumbfounded.
"Why would I?" I asked, confused.
"AUGH! What is wrong with you?" he groaned. "You are able to go and yet you don't?"
"Yes" I replied simply. He just shook his head and leaned heavily on the wall. "Alaster, if I am to stay-"
"You are actually going to stay?" his head snapped up. His pale eyes boaring into me.
"Yes, but I do have conditions." I said, pursing my lips and trying to seem confident.
"Of course." He drawled, looking skeptical.
"First you have to keep the door unlocked and barrier down. I want to be a guest, not a prisoner." I said calmly. He started to open his mouth, an angry look in his eyes but I cut him off, "And in exchange, I will be here in my room every night before sunset." His eyes widened and he stalked over to me,
"And what if I want more?" he asked gruffly as his arms snaked around me, holding me to his chest, in a none too gentle embrace.
"No, you will only take what I give." I said as evenly as I could.
"And am I allowed to call you Kari?" he asked, still skeptical. A smile quirked my lips,
"I would like that." Then he leaned over and whispered in my ear,
"And if I want to kiss you?"

My breathing hitched as I said, "That depends on how I feel at the moment."
"And now?" his voice was gruff.
"I don't know." I was too confused. I knew I would stay but what I would do here was beyond my current thought capabilities.
"Sounds good to me." And his lips crushed mine. He took possession of my mouth hungrily. His hands held me even closer, and I could do nothing but lean into his kiss. And return it. He groaned low in his throat. I let my arms reach around and sink into his hair. He growled possessively and he ran kisses down my throat. His teeth sank into my skin. It felt actually good. It was warm and more of a caress. I let out a little squeak and melted against him. His hands gripped me tighter, a groan rumbled through his chest. He tore himself away and put his lips to my ear.
"Have I told you how much I love it when you squeak." He growled into my ear. I squeaked. He chuckled, it rumbled in his chest. My legs gave out but he lifted me up and laid me on the bed. My eyelids felt heavy again. "Tired?" he asked, laughter in his voice.
"Not enough blood in me." I mumbled. He chuckled.
"You have plenty of blood." He brushed his fingers against my cheek. But then his demeanor became harsh, "I swear if you leave, I will kill you." He hissed and left. I sighed heavily. This would be difficult. But maybe not, all I really had to do was stay. But my brain was fuzzy, I was too tired. I fell asleep where I was.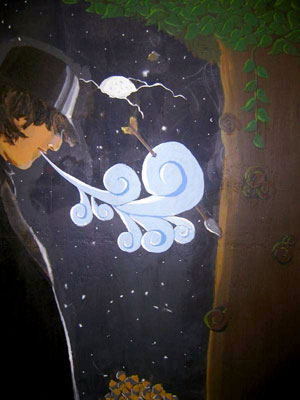 © Dean W., Hinesville, GA