What are you really thinking
October 18, 2009
I looked up into the sky and saw all the twinkling stars that danced in the dark night sky. It was just another youth group night I thought to myself, but I knew I was dead wrong. The game we were all playing tonight was partner hide-and-go seek. Out of all the people I had to hide with, D.C picked him, Donnie Smith. His light brown hair shined dark in the moon light.

He leaned in and whispered into my ear. "What do you want to talk about?" A laugh as came out of my lips. Every single night he asked me this, and I always hold back my answer. He was the basketball player that was in the band, got straight A's, and the one that every girl fell in love with; and I was one of them.

"I don't know what do you want to talk about?" I asked coolly. I had an answered, but I don't think he would like it. I wanted to say you. How can I love the perfect boy that every girl wanted to have.

"Are you sure you have nothing to talk about at all?" he asked again, but with a bit more sadness in his normal calm brown eyes.
"I turn to face him, but his eyes burned into my heart, and I spoke without fear. "I love you Donnie, I have always loved you; but you can't love me."

A big old smile appeared on his lip. "Good, because I love you Virginia. I don't care that people say you're weird. You have a light of hope every time I look into your eyes, and you are so kind to everyone. I wish I could be like you." He sighted.

"But everyone loves you, and I'm just, a weirdo that everyone makes fun of." I replied looking down at my feet.

"Then I must be crazy for being in love with you." He then landed in and lighted my chin up, and kissed my lips so soft and calm. I could feel the true love coming from his heart, and I knew it was true; he loved me.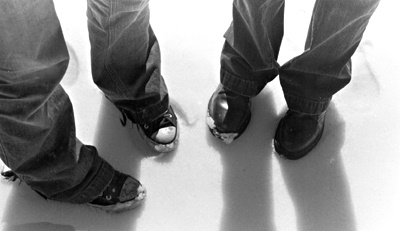 © Elana N., Marblehead, MA