EC+AM=4ever Chapter 4, Part 2
September 2, 2009
Ash and I sat next to each other on one side of the table, my parents sat next to each other on the other side, and Ms. Mongolia sat at the head of the table, between me and my mom.

"So Lori, where did you say you moved from?" Mom asked.

"Miami, Florida," she replied. She was staring down at her food, sticking her fork into it and cutting it down the middle with her knife almost mechanically.

"Oh, I love Florida! I just love how sunny it is!" Mom oozed.

"Yes, it's nice." she said.

I saw Ash roll his eyes when his mom wasn't looking.

"So why did you move to New York?" Dad asked.

"I got a job offering here and I decided to take it." She took a sip of her iced tea and dabbed her mouth with her napkin. She was so precise about everything she did. It was kind of freaky.

"Oh, that's great! So did you get promoted or something?" Mom asked.

"Yes, I got promoted."

"Well where do you work?" asked Dad.

"I work for Staples."

"Oh, that's a pretty big company! I work at a law firm in northern Westchester. I like it, but I can get stuck in the office for quite some time." he replied.

"Oh, that's nice." It was silent for a moment.

"This lasagna is great, Mrs. Carter. You're an amazing cook." Ash complimented. I loved how sweet and polite he was.

"Thank you, Ash," Mom's face lit up and she grinned to herself.

After dinner was over, we all said goodbye, except for Ms. Mongolia who just stood there quietly, giving my parents a subtle wave as she went out the door.

Mom shut the door behind them and then looked over at me. "You were right, she really is rude! Here I am, trying to be friendly and she barely even says a word to me!"

"I told you so!" I replied.

"Wow, how could someone so up-tight be the mother of someone so laid back and sweet. I really like Ash; he's very nice."

"I know, right? He's so polite!"

"Yeah, I'm guessing he doesn't get it from his mom." she said.

"Really though, what was that woman's problem?" Dad asked.

"I don't know, but Ash told me she wasn't very social. He said that she always kept to herself and never talked to any of the neighbors. She's even trying to get Ash to be the same way as she is!" I cried.

"That's horrible! No parent should want their own child to be quiet and lonely!" Dad said.

"Well obviously, she does." I added. "I'm gonna head upstairs to go to bed, good night."

"Good night, sweetie." Mom called after me as I walked up the stairs.

When I got up there, I shut my door, grabbed Twilight, and waited for Ash's ligt to flicker. Because when it did, Ash and I would finally get to be alone.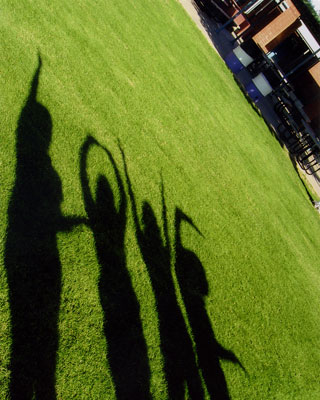 © Lindsay - Elese G., Phoenix, AZ