My Meadow
August 10, 2009
i walked out on to the frozen lake hoping it would not crack beneath
my frost bite feet. being barefoot, terrified, and alone out in this
wilderness area. i am in my death hour. no im am not suicidal, but if
another were to walk upon this scene they would surely think so. i have
nothing but desire upon my mind, the cold has no affect, the fear is
lost the only thing i think of is the other side where you are. the
journey is cold, and hard, but i will get there. finally only a few
steps away from my destination i see you standing there, a smile now
stretches across your face. i smile now: cause and affect. i took three
more steps then the cold ice i was once upon now was warm grass the
heat from the sun which now shinned above my head. my bloody feet now
healed and covered in the wind that raced across the meadow. my ripped
and torn dress, was now a magnificent 16th century gown. yes, i
thought, this must be heaven. this must be MY heaven.how magnificent
that this was now my domain, my fortress, my home. but alas the
surroundings were no match to the embrace of your strong arms. my hair
covers your gentle face, and the smile still lingers upon our faces.
you kissed me so gently upon the cheek and held my face in between
your hands. they were so warm, you my love are more then i could ever
ask for. you my love, are my life, and shall remain with me till thy
life is at it's end. yes, for that day shall be years away. i shall
cherish the time we have left together.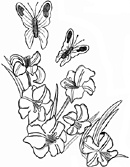 © Leah-Marie D., Peoria, AZ