All the Way for You
January 14, 2020
The thing she loved most about Connor was his smile. It was like a bright light that pushed away all the darkness from her world. The way his eyes crinkled into crescents and it made her forget about all her worries just to see him happy. No matter how far he was from her, she could always remember the way his pearly white, perfect smile would make her heart pound.
She stepped on the gas, a sudden rush of adrenaline ran through her. She sure did have a long drive ahead of her. Connor used to live much closer but then he decided to transfer colleges and she would never wanted to get in the way of his dreams. She was the girl in his life that always stood beside him and supported what he wanted.
The day they first met was like a dream. She was going to a concert with her friends who invited a couple of guys. At first she didn't want anything to do with him, relationships seemed like bad news. The whole idea of opening up to someone just so they have the liberty to leave your side whenever they wanted scared her. But the next thing she knew was being swept away by his words. By the way he would tease her lisp, the way he would stroke her thumb when they held hands, the way he would always remind her how happy she made him. Austin, Nevada, the sign read. She let out a heavy sigh as she watched the roads float by, quickly like the flash of her memories of him.
He broke down her walls and made her feel like a person again and in return she always promised to always be by his side. They would facetime regularly to catch up and would always send each other goodnight messages and she thought everything was fine.
The engine started to let out a deep roar, it was slowing down. Her eyebrows furrowed as she watched her car come to a halt. It was out of gas. She cursed before hitting her car and storming out. There was no cell service either in the town with a small population with 192. She couldn't even call him. Having no clue where the nearest gas station could be, she hopelessly sat on her car for the next ten minutes deciding whether to wait or to start walking. That was until the first vehicle passed by her. A bus. A bus going to Colorado, her destination. She jumped up and ran in the middle of the road, hoping the bus would stop and not run her over.
"I will pay whatever amount to catch a ride going to Colorado. Please. My car broke down and I'm trying to visit my boyfriend and I've been driving for the past 9 hours." She pleaded, her hazel eyes now glossy, bleached blonde hair now tied up in a messy bun and her face crinkled with fear.
Leaning her head against the window, she watched the unfamiliar town pass by her like the wind. She had never traveled this far to see him. In the past he always came upstate because he insisted, since he had a car. She, on the other hand, borrowed her mother's car and didn't know how to drive well. This is why I'm doing this, she thought to herself. Why she paid $135 just to get on this bus for the next few hours, because flashbacks of him just felt like home. Being wrapped in his cinnamon scent hugs that made her never want to be anywhere else. Because he was her home.
She only thought about him. Maybe that's where things went wrong.
"This bus is going to quickly halt in Fort Collins because we seem to have a flat tire and don't have any spares." the driver's voice suddenly boomed through the speakers on the bus. Her body jerked up. She wondered why so many things were going wrong today when all she wanted was to see her Connor. She took her bags and ran out. She didn't have time to wait for when the tire would be fixed and planned to just take a cab to Denver. Except she was a little hungry. Obsessing over this journey caused her to forget to consume anything in the past 16 hours. That was exactly her issue. Obsession.
Weeks ago, Connor had slowly started to call and check up on her less and less. She didn't fret at first, university is stressful and it was exam season. Instead she tried to give him space but then he stopped doing all the little things he used to do. No more posting pictures of her, no more hitting her up first and no more goodnight messages. One night he told her, he couldn't handle how demanding she was and he just needed more space. But that space turned into complete isolation. So here she was, on a 14 hour drive from Washington to Colorado looking for an answer because for years, he was her answer.
She walked into small bakery, bought a small iced coffee and a bagel and was happy on her way out but the sight she saw instead had her heart drop to her stomach. Connor with another girl. Tall, slim physique, she had dirty blonde hair like her but seemed to give off a completely different vibe. Her heart started to pound, her head felt light and she didn't know what she was supposed to do. He looked different, he was stressed. She could tell from how puffy his eyes from lack of sleep. But at the same time he looked happier. The same way he looked when he was with her.
Her feet had a mind of their own when she found herself storming over to him. "So this is it? You don't even formally break up with me?" She analyzed the same ocean orbs she had fallen in love with. That she was in love with. There was no fear or shock in his eyes.
"I knew you'd do something like this." he sighed as he squeezed his new girlfriend's hand in reassurance. "Colleen, this is her." Connor gestured to the girl who felt like her heart was shattered.
"Her? That's who I am?" her voice cracked.
"Well can't you get a hint by now? You were just that girl I had a thing with from high school. We're different people now and we live different lives. It's time you forgot about me because I have you."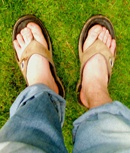 © Caitlin E., Sammamish, WA