The Shooting Star
February 19, 2009
"I dedicate this song to Ella, my everlasting star" said the voice on the radio. And then the song started playing.
Rachel stared at the mahogany vintage tub radio, not daring to turn down the volume dial down. Her eyes did not budge. Her hands did not twitch, in fact she was completely immobile. She could not move. She could not feel. Or rather, she simply did not dare to. All at once, the tantalizing song filled the room up with nostalgia; unwanted memories that she had pushed away for so long rose up again, drowning her in her dire past. The amorous lyrics whispered false truths into her ears, isolating her from the present, dragging her, forcing her to remember the bitter betrayal.

It was five months ago, to the date. Five months ago and it still painfully seemed like just yesterday. They had been known no longer as individuals but as "Rachel & Tyge" for six months then. Rachel felt a burn in her heart, the hole inside of her grew wider, despite her vain efforts to keep it intact. Back then everything was so blatantly perfect, she never would have anticipated his betrayal. Tyge Riley was a guitarist in a local band of Bishops Stortford, their hometown. Though he was four years older than her, they frequently went to the same parties, shared mutual friends and more than often bump into each other in town. It was simple serendipity. It was not love at first sight, but Rachel had never forgotten his friendly face and shaggy mahogany hair that drooped over his eyes and the way he would flick his head to get rid of the golden strands covering his blue eyes. They started by exchanging smiles, nods and shy glances and ended up exchanging feelings, promises and kisses, one night after a shower of shooting stars. Since then, they were inseparable. She always went to all his gigs and he always waited around for her to finish her everyday duties. People around them gawped at their perfection, at their simplicity. Some would say that they completed each other. Where she was shy, he was outgoing. What she knew about academics, he knew about music. She taught him things he didn't know and he showed her things she'd never done before.

After a few months things changed but Rachel was too blinded by the light to notice anything. Tyge's band had gotten signed, and they started getting more and more gigs outside of Bishops Stortford.
He had been in Dublin for the past two weeks, and she hardly ever heard from him. She hid her sadness easily, and led on with life as if he were still beside her. And in her mind, he was.
"Hey pretty, I've written you a song, it's called Shooting Star" he had said one day on the phone. "The lads think it's going to be a hit. I've sent the lyrics to your email address and I'll play it for you when I get back, my muse, my love, my shooting star." And if she had ever felt any doubt about his love those past few weeks, it all disappeared then. Night after night, she read the song and imagined his voice singing it, just for her. It was her song, only her's. There was nothing more she wanted now.

More weeks passed until the day of his arrival. Rachel had planned the whole day out. She hopped on the first bus to Stansted Airport, and waited at the Arrival Terminal for two hours before his plane had even landed. She wore his favourite outfit, wore his favourite smile. One by one, his band mates came out through the revolving doors, suitcases and instruments in hand. She must have missed something, because Tyge wasn't among them. She told herself he was probably still waiting for his luggage, blocking out the other ideas from her mind. Her everlasting smile died away when David walked towards her, with a look of sorrow on his face. She convinced herself to stay put: it surely wasn't anything serious.
"Rachel…", hesitated David.
"Hey David! How was your trip?" she forced herself to stay cheerful.
"It was great," he smiled, despite himself, "but listen, I've got to tell you something… It's about Tyge."
"He's okay, right? Nothing bad has happened to him, right?" Rachel rushed.
"Well, yeah he is okay… That's the thing… Rachel, He's met someone. He stayed behind in Dublin. He left the band behind, left everything. I tried to talk some sense into him… But he… There was no alternative. You know how he can be so stubborn sometimes… He told me to tell you not to call, that he's sorry. He just can't deal with this right now… I'm sorry Rach, I didn't want to do this. I really hate him for this", he stumbled on his words, and offered her his arms for comfort.
Rachel didn't move. She didn't feel. Or rather she simply didn't dare to. Her life was both emptied of all reason and filled up with a permanent feeling of loneliness and loss.

With a sharp gasp for air, she was pulled back to the present. The song on the radio was her song and that girl had stolen it from her. She didn't know whether to feel thankful or hateful. The young man next to her offered her his arms; though this time, she gratefully leaned into them. And for the first time since Tyge's betrayal, she felt tears fall down her cheeks. They were tears of sadness. They were tears of self-pity. They were tears of betrayal. But most of all they were tears of understanding, or rather of misunderstanding. She had been his shooting star. But shooting stars are stars that died, that the sky decided to throw away; and just the same, he had thrown her away, and she had fallen. Though she knew that shooting stars don't ever find their way back into the sky, a part of her clung on to the hope that one day she would be able to. That one day the darkness inside of her would disappear and leave place for a new glowing light.

"Don't you know who you are? You're my shooting star" she sang along, in a whisper. And the hurt inside her began to manifest itself again… Though it was slightly less painful this time.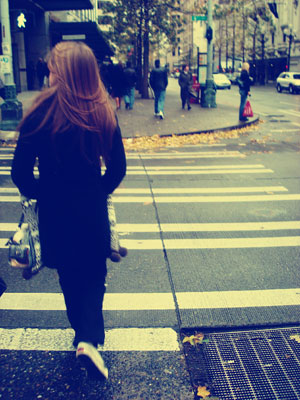 © Adria O., Edgewood, WA