Subway Sob Story
April 5, 2018
I love Subway. They constantly make sure that I get my food promptly and never make mistakes. I encourage anyone who needs to eat in order to survive on this planet, to try Subway. The most successful time I've been to Subway was in fact, just last week. I was in a huge rush to get to rehearsal on time, if not - a little early. Not eager to suffer the stomach cramps that always follow a nutritious Big Mac, I decided to go to Subway.

I was delighted as I was crunched for time to see that the line was very short, just one other person in front of me. When it was my turn the professional sandwich makers only made me wait ten minutes before attending to the earthquake that was my growling stomach. The man then proceeded to stick the sharp knife, stabbing the bread like he were gutting a deer; he did so incorrectly and decided to try again. Even though it wasn't perfect he decided it wasn't worth the waste of bread, all the while mumbling to himself about how much he hated his job. I'm sure his boss was just a little rough. He then proceeded to ask me three times if I wanted my bread toasted. No, no, and no. Here's the thing: I don't want my vegetables to be slimy so why would I ever want to toast my bread? He decided that it would be good for me to try something new, so he toasted it anyway. Even with all of the mishaps I knew I could still be on time, it was so thrilling how fast and perfectly they were working.

I thought that after this maybe everything would be okay. Once the, hotter than I wanted, sandwich was made, one of the other workers pulled some fresh cookies out of the oven. AND HE KNOCKED. MY SANDWICH. TO. THE. GROUND. The sandwich maker then (like any decent person would do) made me a new sandwich. I finally got everything taken care of and paid for. However, I realized that my change was wrong by almost 5 dollars. So, having been in the car already I got back out in the sweltering heat to get my five dollars back and after ten minutes of questioning my receipt, I was able to head to rehearsal. It was ten minutes past the start time of the rehearsal, which was an important 20 minutes later than I had previously thought I would be arriving. How would I ever get caught up on what happened? It's okay. I thought. Next time I will make sure I am more efficient. At least I can always count on Subway when I'm running late.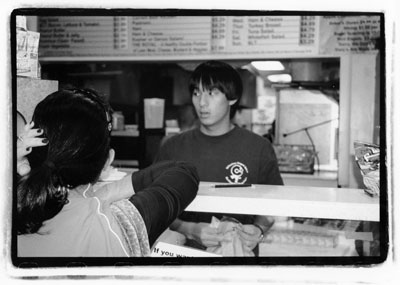 © Rachel D., Bethesda, MD