The Bakery
April 10, 2009
Signora Rosa looked out from her balcony on the fifth story of 1234 Bella Street, Sicily. There,across from the bakery,were the boy and the girl. Every morning whenever school was not in session ,they would walk,hand in hand. In his other hand,the boy held a baguette,white as winter's first snow,from the piping hot stone oven. How beautiful the sight was-both were bathed in the glow of youthful love and affection!
The day she had came home to find her beloved Sergi on the floor,writhing in massive,painful convulsions,la Signora Rosa had been arguing with her husband about what kind of orange juice to purchase from Signor Bortelli's grocery.
"Sergi,you must have pulp in your orange juice if you wish to be strong. Your health is ailing!",la Signora had instructed.
"Rosa,I am a grown man,fully capable of deciding what to eat and drink on my own time. and right now, I want my orange juice without pulp!"
and with the stern look her husband had given her,la Signora knew:there would be no more arguing with her husband. With that, la Signora picked up her patchwork purse and left the house.
Just the day before,they had been arguing about money.
"Rosa,why must you spend all your money on food,food,food? Look at us-we are old,our kids have all moved away to the city. For God's sake,look around,Rosa. Look at our house!"
She had. Age-old sausages were strung up on the kitchen's stucco walls,which were covered in cracks. The plumbing barely sufficed;weeks worth of newspapers had piled up,stacked about two feet high on the coffee table,on the floor's wooden planks.
Every morning, la Signora would watch the couple,hand in hand,til it became somewhat of a routine for her. The couple would look up at Rosa. Rosa looked at the couple,who would smile and wave.la Signora would wave back.and so they would continue on their way.
One fine morning,the couple looked at Rosa as usual. Rosa looked at the couple. They waved. Signora waved. The girl said something to the boy,and they smiled and laughed,the girl's hazel,almond-shaped eyes gleaming.The girl took something out of her bag,which the boy helped her to hoist off of her shoulder.
Then,they began to egg la Signora Rosa.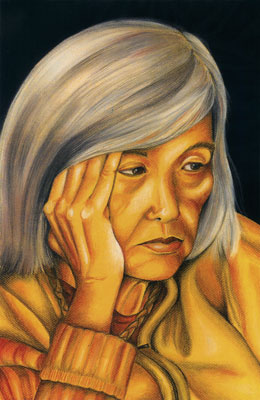 © Kaitlin C., Forest Hills, NY