Just beyond the flower garden at the end of the lawn (From Picnic, Lightnin
February 27, 2018
Just beyond the flower garden at the end of the lawn, she sits watching her tiny creation. She watches the little boy with ease and admiration, following him with eyes as he teeters along the side of the road with a red truck glued to his and. Every so often he stumbles, but quickly regains his balance. He floats along the roadside with ease, swept gently by the night's air. He yawns with large effort and continues on his way. She notices his eyes start to fall and the raising goosebumps on his arms. The air is especially cold tonight, and seeing as the sun is starting to go down, she decides to tuck away her precious baby. She scoops up the boy and turns, marching up the porch steps. She holds him gently readying herself to put him away, not afraid to leave his side. She will see him tomorrow. He laughs in her ears, the gentle sound blossoming into a scrapbook of memories. Pictures from birthdays and first days of school come flooding in. Memories so vivid, she feels like she can reach out and touch them. His blonde hair sweeps across his forehead as she rocks his small body. He giggles, showing off two front teeth and squinting his bright green eyes. Here is a little boy, so small and eccentric, his future is a white canvas ready to be painted on.
"Mama!" The boy shouts and giggles. His voice sounds muffled, as if he is far away. She goes to squeeze him tighter in her arms but when she does so; he is gone. She whips around in fright, searching every surface with her wet eyes, trying endlessly to find her lost boy. She can hear his footsteps and smell the baby powder on him but, he isn't here.
She wakes up; the images of him and the sound of his laugh withers away the more conscious she becomes. It is dark and the room is cold. Still, sweat covers her body. Seeping into her skin, droplets turn to puddles made specifically to consume her; she is drowning. She reaches for the little person next to her, but he is not there. A life preserver, an oxygen mask, a magic pill, a little boy. She realizes her life raft, her son, is not there. She sees there is no water here; it is just a cold and empty room. Still, she is drowning. He used to sleep in bed with her every night; she hates how big the bed feels. An empty bed only occupied by a half of what should be, she is a walking metaphor for big lonely beds and tear stained pillows. Like the bed, one half of her is missing, too. She feels empty now, too. A piece now gone as if it just disappeared into thin air.
Just beyond the flower garden, down the short rocky road, she makes her way through the woods and down the muddy hill. Her rubber boots stick to the mud but it does not weigh her down; she does not stop. As the sun comes up she places her hands on the short gate, gripping the rod like it is his hand. Last time she let go she lost him and now she doesn't know how to let go.
She makes her way to where he lays. She sits down, the mud covering her legs. She sits by his grave, and cries for awhile. The sun is up but she can't see past the darkness. She takes her time with her little boy, talking to his grave like it is truly him. When she leaves now she is silent. She leaves the gate open.
This time when she goes home, she walks right through the garden. Those flowers are going to die anyway.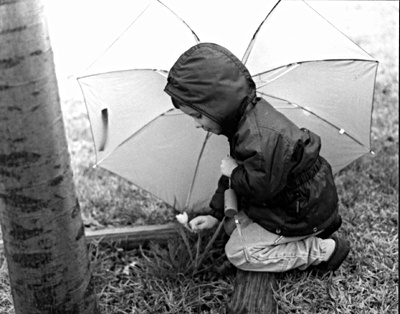 © Amanda M., Highland Village, TX