The Choice I Had to Make
March 1, 2018
In the beginning a girl name Madison and boyfriend named Ethan, loved each other. Ethan decided to take Madison to an expensive restaurant because that night was when they first meet three years ago. He took her to Pizza King mostly because it was Madison's favorite restaurant. Madison had just graduated college she graduated in the winter so it has been about three to four months. But what Madison didn't know what her situation was, because she had to make a decision, but she doesn't want to make the wrong one.

Madison has to choose between the love of her life or the college of her dreams. Ethan was the love of her life but she had a chance to go to a college in Florida. This college barely accepts anyone, and she got accepted. She was so happy, but she loved Ethan and didn't want to be away from him. But she didn't know what to do she also didn't know how to tell Ethan. She had to choose between Ethan and culinary cooking.

She had to tell Ethan how she was feeling. She told him that night when they went into the street for a walk. Ethan wasn't to happy when Madison told him the news, he told her to go to the college. He thought about moving with her but he didn't want to. But what he didn't know is that after Madison told him, she knew what she had to do.

Madison and Ethan talked about the decision all night until Ethan took her home. Ethan wanted Madison to go to Florida to follow her dream. But Madison wants to stay and be with Ethan, she has never meet anyone who loves her like he does and she doesn't want to have someone else love her. She only wants Ethan to love her. Later that night Madison was writing a letter to Ethan. She gave it to him the next day while he was at work and then she left. Madison spent over 3 hours writing this letter. Ethan read it on his break and he about burst into tears if he had his phone he would have called Madison but couldn't.

The letter was talking about how she loves Ethan very much and how she doesn't want to lose him. She can't live without him and needs him in her life. There are other colleges out in the world some that are closer to home and some that are less expensive. So she is staying home and going to find another college that she can go to.
Possibly one that is closer to home so she can see her family and see her boyfriend.

After Ethan read the letter he realized that he needs to keep Madison in his life forever so he proposed to her the next night. He wanted to keep her in his life because he loves her. Madison stayed in Iowa found a better college and her and Ethan lived together forever until they died. They loved each other very much and every time Madison had to choose between Ethan or something else she choose Ethan. When Ethan had to choose between Madison or something else he always choose Madison.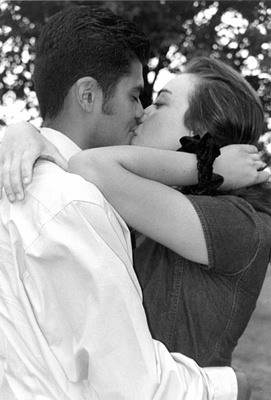 © Yaniris M., Boston, MA