Shattered Glass
April 10, 2017
I look at you, and you look back at me, through your red, puffy eyes. Yes, the tears trickle down from those eyes of yours, the eyes that have seen magnificent cities crumble to dust and rubble, the eyes that have seen the daisies die in the garden year after year. I see your tears edge their way down to your cheeks, those cheeks of yours that you have spent far too much time worrying about, worrying that they are unattractive. You wipe the tears off your face, just as you always do. Maybe this time will be the turning point. Maybe this time you will not just wipe away the tears and pretend that everything is okay. Maybe this time you will out about your struggles, be who you truly are and not who they want you to be. Or maybe you will still ignore the pain, keep it all inside you, and continue to pretend to be someone you are not. Maybe you will continue to look at yourself in displeasure, and continue to pick up the knife.

        And maybe you are right for doing so. Because maybe you are a person who is bound to just... go nowhere in life, living adulthood on the streets, and dying alone. Maybe you should just end this, right here and now, so that you don't have to carry the burden of the world on your shoulders, and the world doesn't have to carry the burden of you on hers. After all, you will never be the person that the world wants you to be, so why continue to dissatisfy her? You've tried everything within your power to fulfill her standards for you, but maybe you were never destined to fulfill anything. Nobody loves you, no one would feel any bit of absence or remorse knowing that you were gone for good. Go end your life, so I never have to look at all the vast imperfections your body holds, or have to think about everything you will never be able to accomplish. I loathe you more than anything else. 
And suddenly your image is shattered. I look down at you, my distorted image, your hands, my hands who have shattered this mirror almost on instinct. I might not understand why I chose to do this, but as I sweep up the shards of glass, those red, puffy, eyes still visible through them, I know I have made the right choice. 

"I love you."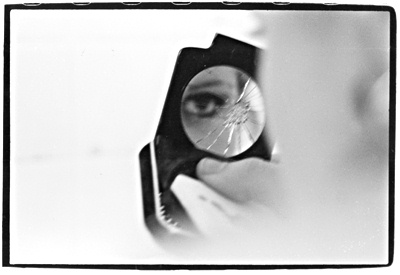 © Heather W., No., Brunswick, NJ