Letters From Me Before I Go
May 16, 2016
I've been in a coma for three years, since age fifteen. My boyfriend, who happened to be sixteen at the time, was driving like any other person on the road, but we were the ones who got hurt. The car hit smashed into my side of the car and I was knocked out, but my conscience wasn't.
Ive seen everything that people have been doing since my years in the coma, I'm like a ghost that they can't feel the presence of. I've experienced every betrayal and heartbreak, every cry and laughter, all of those being from the ones I love and the ones I thought I did.
To My Father:
Daddy I know you weren't involved with me a lot, but when you heard the news, you broke down on the floor of your new condo. It destroyed you. I heard you curse my name to God a thousand times over and over, hoping for something to happen.
Your new wife didn't seem to care when your youngest daughter was on the brink of death because she left with every cent you had. Years down the line, the cents turned into hundreds of dollars from paying child support to a child you can't confirm is your's. On the inside I cried for you, hoping that my hopes for you would be in your thoughts, just like your's were in mine.
I see the gray hairs all over your head and the baldness erupting from the stress. Every time you visit, you ensure me it's not due to what happened to me, but that's not the truth. My medical bills continue to pile up higher and higher, yet you refuse to shut the machine off; that is how much you care and just that itself made up for our lost years.
Im writing this letter to tell you I love you more than ever if that's possible. Keep calling me Sunshine, but please, I beg you to turn it off. Im ready to go home after years of talking to myself and struggling to wake up. Grandma and Pop would be very happy to see me.
To My Mother, The One Who Gave Up:
Don't act like I can't see you 'innocently' slipping pills and wine on a minutes notice. Me being here is stressful for you, but you're killing yourself, and that's the easy way out for you.
You haven't visited me in at least six months because you're out living a luxurious lifestyle, with your sixth boyfriend of this year. I bet he doesn't even know about me, just like the rest of them because you want all the attention.
All the calls from Dad are ignored, and he's just trying to call you and tell you I'm doing ok. You know that he's out working 24/7 to pay the medical bills, you're just too cowardly to answer. I heard what you told him, drunk, on the phone two years back; that you would be happier if I stopped breathing. Part of me believes that you were just a little tipsy and not actually drunk.
When, or if I wake up, ill tell you everything I heard. If I never speak to you again, then I hope you can realize why. Also, the $200 mother's day present I bought for you with all my scrap money before tragedy is hidden under the loose board in my bedroom floor.
To My Sister:
Im glad you went to California and made something of yourself. You never lost your hope or yourself when you went out into that scary world. Growing up, you always believed you were destined for stardom and I was the only one who pushed you. That movie role is sure something.
You still manage to make to out to see me, even when it may be for a few hours each month. I wish you could see my smile when you talk about the latest celebrity gossip and how you're dating a really cute guy. The only thing I hope is that you'll never end up wrapped in yourself like Mom.
All-nighters of the Disney movies still play in my head from when we were younger. Sleeping Beauty and Finding Nemo were always on the list every weekend, and that tradition kept onto teenage years too.
Ive also seen you cry though. Not only when a role goes bad, but when you want to have real communication with me; I'm listening. Go and see Dad, okay?
To My Soon to Be Ex BFF:
You come and visit me to pretend that I'm ok with all you've done. You're just as two faced as the rest of the crowd at school who made their own versions of what happened. I'm tired of the apologies.
You went and did everything that we promised never to do and the things that you promised we'd do together as I was in my coma; that was at the beginning.
I see you throwing up in the bathroom stall at school so you can be 'skinny enough' for the cheer squad, the only reason you're on that is to meet guys and get attention. Cheer was my thing, but that's not the only thing you took from me.
When you were at that party one night, yeah, I saw you laying in bed with my boyfriend. He was drunk from the kegs, but I saw through you clearly. I'm sorry for your jealousy of my football-playing boyfriend, but you couldn't take him. What ever happened to the "never date ex-boyfriends rule"? But, I'm not sorry for when he shouted my name during your play date.
The first thing that I'd do to you if I were to wake up is slap the sense back into you. I love you; not really.
To My Maybe Boyfriend:
The first year was tough for you. You blamed yourself for what happened to me and gave up football for a while because of it.
I miss your soft kisses on my half-dead lips, that slowly transformed into forehead kisses. I wish Id know if you still love me, you didn't have to hold on this long is you are because it could ruin you. The flowers you brought last week are slowly wilting, but there will be new ones next week from you every other week visits.
Remember our first date in eighth grade? The movie date was so cheesy and your parents were sitting so close that you were too embarrassed to hold my hand. Afterward, you grasped it tightly when you walked me home alone.
If you want to let me go after three years, I'm fine with that. Im surprised that a teenage boy could even hold on this long and now you have a college scholarship to play football; I'm proud. If I leave, I don't want you to be hurt as much as you were when it first happened, go on with life. If you could see how happy and forgiving I am right now, you'd move on.
I wish the best of luck and happiness to everyone that I consciously wrote to. We may have had our ups and downs, but that doesn't mean that I don't care any less. Unfortunately, I'm one of the first road blocks you probably hit in life, but push hard.
You could call my life an adventure, but I prefer rollercoaster. Rollercoasters have bumps and hills and go at different speeds, but also break down sometimes. I couldn't imagine what my life would be like if the tragedy wouldn't have happened to me. I always question myself about how I'd be feeling right at this moment if I were awake. Would anything that happened, happen? Would someone else have died? No matter how much I hate thinking about it, it will always be there and I will never receive an answer.
Dad, Grandma and Pop are doing good. They are both very proud of the good father and man that my Dad has become after all of the hardships he endured throughout life. I am having a great time with them up here and please make sure people stop crying for me, okay? I want my life to be celebrated and my newly born niece to know me as I was before in the eyes of all of you.
I love all of you, and good night,
Iris Strong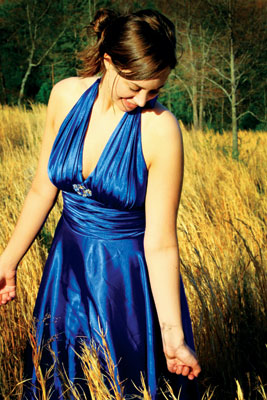 © Michelle B., Blairsville, GA