Green, Brown, and Ineffability
July 9, 2015
He stood on the doorstep, trying to understand the world around him.
A crippled flower under a rock, reaching for the sun. A single sparse cloud amongst an otherwise blank and cold sky.
In the moment, life seemed... simple.
He lowered his gaze to the ground. Covered in a thin, crunchy layer of white powder. He took a step and listened to the sound of his boots pressing it to the brick pathway, then moved back to his original spot and studied the indention it had left in the snow.
It was early evening; it was getting dark. People had just begun to turn their lamp posts on to light the street with a gold glow. A pull and his eyes landed on the footprints that were alongside his. They didn't belong to him, though. He forced his eyes back to his boots and examined them. Green, shiny, with black laces. Not at all like the boots that the prints belonged to. They were purple, more like hiking boots, and had white laces. Those boots, or, rather, the person they belonged to, had just left him. In a good way.
He thought back to last Tuesday morning. He had dragged him to the theatre, to see a scary movie (he said he wouldn't go alone, so he agreed). They laughed at the cheesy and stupid parts and covered each others eyes with their hands and peeking through for the suspenseful and scary parts. A popcorn war was started (and quickly ended), a few brain freezes occured, and a lot of malt balls were consumed. And near the end, he felt it.
His hand, on his.
He wasn't expecting it. An electric jolt went up each individual nerve in his hand. A warm sensation spread throughout his body. He looked at him, but he didn't return the glance.
So the hand remained.
The car ride to his house was silent, whether out of discomfort or contentness he would never know. They pulled into his driveway, and when he closed the door, the other door echoed. He walked lightly up the path and turned.
"What... What was that?" he said.
Soft brown eyes clashed with his green eyes, and a smile creeped on the edge of his mouth. A few moments of silence, and
"That depends on how it made you feel."
He felt his cheeks turn pink, though it would simply blend with the cold burning them. Despite that thought, he took notice of it and smiled.
"I thought so."
Bright red.
A hand, warm and slightly calloused, graced his cheek, and he closed his eyes.
Warmth. Light. Floating. Two hands around him, two hands around him. Lips intertwined. Pink on pink. Ineffable.
Green and brown met again. Filled with warmth.
He wasn't the first one to look away. He didn't want it to end, either.
Too soon, he was gone. A car door shut and an engine started. Crunching under the tires, and tracks leading out onto the road.
Too soon.
Snow crunched, yellow glowed, and he was back inside.
He had to think on this.
Not hard. But still.
He couldn't even find words for his head to think.
Ineffability.
He found himself on his bed, having gone up the stairs, staring at the ceiling fan and watching one blade going round and round, infinitely.
That's is what it felt like.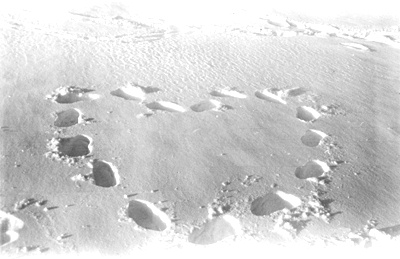 © Kim B., Marblehead, MA