Why Oncologists Don't Do Speed Dating
May 26, 2015
     My name is Will.
     I scribbled it onto the tag and placed it over my jacket pocket. Looking around the dim lit bar, I counted the girls sitting at the tables. There had to be at least 20.
     "Come on man! Lighten up! This is gonna be fun, you'll see," Greg turned and signaled the bar tender. "Aye! Two beers!" He turned back to me, a big grin on his face.
     "I'm not so sure."
     "Dude, Dont. Even. Worry. About it." He grabbed the drinks off the counter and shoved one into my hand, splashing drips here and there, "DRINK!"
     I used to tell people he was easily excitable, but now I just told them he was 'naturally drunk all the time.'
     "Alright ladies and gentlemen!" A woman with a microphone stood on the stage, "Find a table! You'll have 45 seconds to get to know the person you're sitting with, so work fast!"
     I found a seat, a girl named Trinity sitting in font of me. She had brown eyes and blonde, and she was wearing a red dress with a black cotton sweater. The bell rang, screaming at us to start socializing.
     "Uh, hey. I'm Will."
     She laughed lightly, pointing at my name tag, "I see that."
     "So what do you do?"
     "Oh, I work at the coffee shop down the street. I majored in art, so, I guess that's kind of what I signed up for!"
     I forced out a laugh, "Aw, that's to bad. Are you any good at art?"
     "I hope so."
  A pause.
     "What do you do?"
     I smiled. "I'm an oncologist."
     "Really? That must be so hard! My mother has breast cancer."
     "That's too bad."
     "Yeah."
     The bell rang, and I grabbed my untouched beer and moved to the next table.
     "Hey, I'm Lana." A girl with dark skin, eyes, and hair sat at the next table."
     "I'm Will."
     "You much up for these sort of things?"
     "Not really, I was brought by a friend."
     "Same here. So, what do you do for a living?"
     "Oncologist."
     "Must have been hard to get through college, yeah?"
     "At times, wha-"
     "My grandpa died from cancer before I was born, it's all my mom talks about sometimes."
     "You don't say."
     "Must be a hard job?"
     "It can be."
     "Hey, what hap-"
     The bell rung again, and I stood, shook her hand, grabbed my still quite untouched beer, and moved on.
     "Hi I'm Will." I sat down and chugged half of the glass. "What's your favorite color."
     "Um, blue, and I'm Kim."
     "Cool."
     "You make amazing first impressions."
     "You think so?"
     She laughed, and replied "You sure know how to charm a girl. Maybe your job is more interesting?"
     "I'm a… veterinarian."
     "What you are a bad liar."
     "Oncologist."
     "Aw, that must be hard, telling people they can only live for so long. My cat died from cancer last year."
     "I'm so sorry."
     "Yeah, he was pretty old though, and the vet couldn't do anything about it."
     I sighed. I looked down at my beer, asking why it wasn't helping.
     "Are you ok?" She was drinking a martini, the same color as her red hair.
     "I'm fantastic."
     The bell tolled again, picking me up out of my seat and placing me into another.
     "Hi, my name is Ashl-"
     "My name is William Meyers, I'm 27, my shoe size is 9.5, I enjoy long walks and I have a cat named Cat, I wear sweaters, sometimes my blue eyes look green, and I'm thinking about getting a haircut but I'm not quite sure. Do not ask me about what my job is and don't ask why."
     "Oh." She paused for a moment, "I think you should just get your hair trimmed?"
     "That's what I was thinking, but my boss wants me to get it cut even shorter."
     "Why's that?"
     "Well sometimes surgery requires..." I clamped my eyes shut and exhaled out.
     "Oh, your a doctor?"
     "Oncologist."
     "Oh really? My-"
     "You know? I left my drink over at the last table, I'll be right back." I stood, pushed my chair in, and walked casually over to the other table, grabbed my beer, and walked out.
     "It'll be fun they said. Nothing bad will happen they said," I mumbled under my breath as I fidgeted with my keys and waited in the car until Greg came back.
     
     "What was that about?" He asked half an hour later as he got into the car.
     "Greg, I'm an oncologist."
     "Yeah, and?"
     "That means that everyone talks about everyone they know with cancer."
     "So? I mean, my buddy Stephan's dad passed form cancer about a month ago. He's doing alright, but it's not like it's a huge deal to discuss…."
     I turned to him, shaking my head.
     "Oh." He turned to the window, "Sorry."
     "Yup." I turned the heater in the car down, and drove home.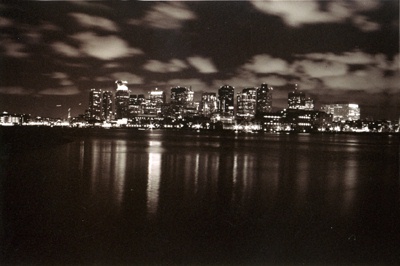 © Hoang P., Rochester, NY