Death's Day
May 14, 2015
     I don't sleep, so of course I can't begin this with a cliche "I wake." Instead, I finish nightly paperwork.
     I set down my pen, and begin the search of a change of clothes. Preferably a suit. I sometimes wear a dark hoody when it get cold. Ebony, coal, ink, soot, raven, shadow, midnight, sable, jade. I settle for obsidian after a few minutes of searching.
     I change, throwing my other suit into a hamper beside my desk. It of course, disappears immediately.
     I shuffle through a pile of ties, attempting to find one that might match the shade I wear now. Aha! Onyx. Perfect.
     I of course, can't forget the small pocket knife I keep with me, just to entertain the thought that I may one day carry a scythe. Grinning, I slip into my newly shined midnight black shoes (although they don't quite go with onyx, I was willing to compromise.)
     After I'm properly dressed, I smooth down my black hair and snatch my jacket from the stand by the door.
     There is no light to turn off.
     I ascend a few hundred flights of stairs before reaching another door. I turn the handle, and a sunny sky greets me. A wispy cloud passes by, it's grey hue threatening a forecast of rain.
     I open my umbrella, and jump.
     I begin my route, whistling pleasantly. I splash a few puddles, pass a few people.
     No one hears a sound. No one sees a thing.
     I am invisible.

               I mean, what normal living person sees Death?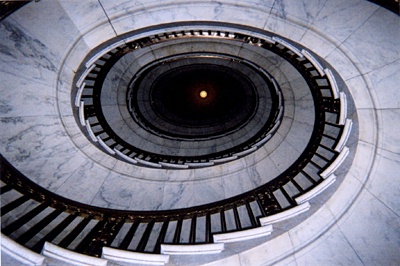 © Kyle T., St. Joseph, MO