The Boy Who Couldn't
March 28, 2015
He starred at the box in his hands and looked down at his crooked finger that had never healed quite right. He opened it and dust spewed out and than he saw the letter.
   They said she went crazy. They said she was insane. She had never seemed too insane. She work to much face and she was to loud but she wasn't insane. She was my sissy. They said she had a disorder. It was called…. Sci.. sci… zoo … scizo? Something like that. I only know the first 26 words on my word list maybe it was the 27th.
                         We shared a room. That night she was acting weird. She slept. She never slept. Mommy said she had a fear of the dark so I had given her a night light to help her for her birthday.  I also gave her Mr. Rodgers to protect her and I climbed in her bed and snuggled against her. I woke up . She was screaming don't touch me don't touch me. I stood and patted her and said the monster isn't in the closet I promise. She grabbed my finger and I heard something snap. I got scared. I knew she was my sissy but she wasn't. I stood up and I ran. I ran to mommy and daddy. They were scared. They ran back to her and she tore Mr. Rodgers into pieces. I cried. I was scared. Mama called 911. I had asked daddy what 911 was and he said it was a number for when things were going wrong. But I was never quite able to figure out what was going wrong. Two men walked in the house one gave Abby a shot and the other bandaged up my finger. The two men threw Abby onto a bed and pulled her away while mommy and daddy drove me to the Er for my finger.
                    The next day the nice doctor talked to me. He said sissy was going to be on vacation for awhile. He said she was in a bouncy house and she was having lots of fun. He told me they had to do tests on me to make sure I didn't have to go to the bouncy house to. I told him I was afraid of bouncy houses and he told me I was a smart kid that they were places for bad people. I told him ym sissy had gone in bouncy houses and he told me that's why she acted like that. He took my finger and they took me into this glow in the dark room with a lazor show for my finger. Then they took a popsicle stick and tied it on my finger with a scarf .
                                  The next day I asked to go see sissy . They told me I couldn't. I asked why and mama and papa looked at me and said that she was busy . They said she was in trouble and she was in a long time out. They told me to write a letter to her and show her I was real. I said she knew I was real but they told me to write her get well cards. I wrote her a lot of get well cards. It's been three weeks now. I miss sissy very much and the monsters   are begging to scare me to.
                                            He sat in silence for just a minute. He looked across the room at his Tellusa psychology major sweat shirt. He looked down at his crooked finger once more and though about Abigal. What else was there to do but cry? He could pick up the phone he could call her but it wouldn't matter to her in an hour she wouldn't remember him . He could go visit mother and father but they had questioned his descions far to often . He had gone to Tellusa in hopes to one day cure his sister and those like her but he thought now maybe he had caused the problem. He stared out his window and looked towards the stars and he thought to himself I wonder if there really is a place me and her will be together again and went back to his box of child hood memories.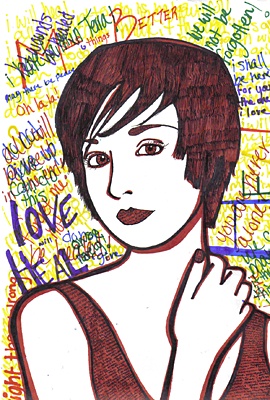 © Sara D., Aiken, SC