Fractured Wings
MAG
March 4, 2015
She's back.
I feel her before I open my eyes. Her presence makes my throat dry, my muscles weak and quivering in anticipation. Where she goes, pain and distress closely follow.
And now she's here.
My phone vibrates as my 6 o'clock alarm chimes, attempting to coax me out of the warmth of my bed. I stretch my body like a cat, my joints clicking wonderfully in response. Just as I roll over to climb out of bed, her hand reaches out. I feel her icy grip – like a vice – clamp around my wrist. My body shivers at the contact.
"Don't go to work," she says in that sweet voice. "Stay in bed with me."
"I-I have to. My status report is due-"
Her fingers tighten on my arm, cutting off my speech. "No, you don't want that. I know you want to stay here with me."
I begin to shake my head, when her eyes weigh on me; her heavy gaze penetrates my soul, causing my insides to boil.
Silently, I lie back down and cocoon myself in my blankets, avoiding her judging gaze. "Just half an hour," I lie.
She doesn't reply, though she knows that I'm not going to work today.
I slip into a dreamless sleep, and I'm awakened by my 7 o'clock alarm. This time, I reach out and, instead of pressing snooze, stop the alarm altogether – along with every alarm that is to follow.
I hear her voice next to me. "Call in sick. You had that stomach ulcer three months ago. Tell them it's come back."
Guilt nags at my insides. "I can't. Everybody was so worried about me last time. If I say that again, especially when it's not true …"
"Then you'll get to spend the day with me," she says, finishing my sentence.
Scowling, I call Ms. Hawgrove and explain that I think my ulcer has returned. She sounds worried and tells me to take as much time as I need.
This feels so wrong. It's her. She's doing this to me.
My phone rings, its treacherous chime jolting me awake. It's Adam.
"Hey," I say, my voice thick with sleep.
"You weren't at work today. Is everything okay?" he asks, and I can picture the concern swimming in his hazel eyes.
Before I can answer, she speaks. "Why are you pretending I'm not here?"
I grit my teeth and squeeze my eyes shut.
"Laylah?" Adam asks, pure panic in his voice.
"I'm fine. Just a little under the weather," I reply in a monotone voice.
After a brief pause, he says, "Do you want me to come over? We can watch Netflix, and I can bring take-out."
At this moment, nothing would make me happier than to have him here. I long for his friendship so badly it hurts. I need him.
"He doesn't understand you like I do," she whispers in my ear. "You can't ever tell him – he won't understand."
She's right.
"'No, that's okay. Tell Thea I'm fine. I'll call you," I say before hanging up.
She eases back onto the pillows, and I mimic her actions. I've never felt more alone than I do right now.
I have no one.
• • •
I sleep beside her until darkness begins to seep into my small room. The sun – from what I can see through my partly closed curtains – is already dipping below the horizon, leaving small bursts of light in its wake. I can no longer sleep.
Peeling the covers from my sticky body, I climb out of bed and pad to the dark kitchen. My stomach growls as I open the fridge. The light temporarily blinds me. When my eyes adjust, I see her shadow. She's followed me.
"No," is all she says, yet her voice holds so much power over me. My muscles freeze at her command, yet my mind whirs in defiance.
"But I haven't eaten all day. You can't expect me to-"
"No," she repeats. "You're not hungry."
I force my muscles to move against their will. I reach into the fridge at random. When I remove my hand, I'm holding a container of leftover Chinese from when Adam came over a few nights ago.
"Laylah, stop."
I don't. I grab a plate and begin to spoon the contents of the container onto it.
"You'll get fatter if you eat that."
And suddenly I'm not hungry any more. My desire for the food is extinguished as rapidly as blowing out a candle; my appetite gutters before vanishing instantaneously.
Without thinking, I sprint to the bathroom to escape her. After locking the door, I strip out of my pajamas and climb into the shower. I've always loved showering. With this mindless task, my body flips into autopilot so I can sink into a deep relaxation.
But something's changed, shifted. I stand under the scalding water, letting it beat down on my shoulders. But it doesn't soothe me. Not like it usually does. My mind is racing as fast as my heart.
She's here, sitting cross-legged opposite me, also naked. I feel her eyes weigh on me.
"You can't even wash your hair, can you?" she says snidely, her nose wrinkling.
And then I feel my legs go out from under me, and I collapse into the tub. The water runs down my trembling body, as if trying to create a barrier between me and her. It won't work. She'll get into my head – she always does.
I feel my lip tremble along with my body, and before I can stop myself, I dissolve into sobs. I don't even know why I'm crying. A gaping hole in my chest expands and swallows everything in its wake, as my body crumbles from the inside out.
"Look at you," she hisses. "You're useless. You're a mess!"
I shake my head, still blubbering.
"You deserve to just lie here in self-loathing."
"I don't hate myself," I whisper.
She looks taken aback. And then her eyes harden. "Yes, you do. Nobody likes you. You know Adam likes Thea; he'll never look at you the way he looks at her."
"Stop," I choke, placing my hands over my ears.
She doesn't stop. "I bet they laugh at you behind your back. You're just the fat girl who trails behind them, never going anywhere, never moving forward. You'd do everyone a favor if you were dead."
And then the walls inside me shatter. I feel the splinters pierce my heart, leaving jagged, oozing wounds. My chest squeezes in its cavity, and I feel as though I'm suffocating.
I've let her in.
"Please stop," I cry, mentally and physically defeated. I'm a delicate bird that's just flown into a window, and now I'm broken. I am reduced to a quivering, fractured mess on the floor. And now the darkness is inside of me. But that's what it does: It awaits a moment of vulnerability, and when the chance is there, it simply slips in. Just as she has.
My depression looks me in the eyes, a cruel smile playing at the corners of her mouth.
"Oh, but I'm just getting started."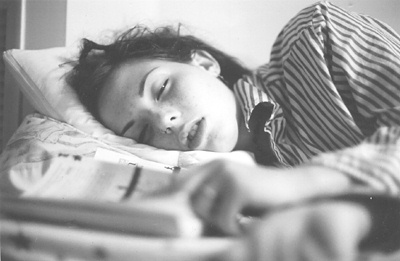 © Rosie A., Lexington, MA