Not Another Straight White Love Story
January 12, 2015
Once upon a time, there was a boy named John and a girl named Maria. John met Maria when they were both 6. They became close friends, playing in the sandbox.

At age 12, Maria realized she liked girls, and fell in love with Shawna. John, meanwhile, realized he liked Maria because he liked the things she liked. John was really Joan. Joan, at age 15, was furiously bullied for being a "tranny" and a "he-she," and might have committed suicide if she hadn't had the love of his parents and Maria to keep her sane. Maria didn't tell her parents, who were devoted Catholics, how she felt. Joan spent the last two years of high school pretending to be John, and the bullying, although still prominent, lessened. Maria still felt things for Shawna, and she felt sick to her stomach when Shawna and Tyrese started dating. Maria and Joan remained very close friends, and Maria's parents suggested the two go to prom their senior year. Why don't you go with that friend of yours, Maria's mom asked, Es practicamente tu marido. Maria figured it was her best option, and Joan hers, and they were off to prom. There they both stood, having their prom photos taken, holding hands, both smiling frowns.

Upon graduation, the two briefly parted ways during college. Maria began to see Nikole, the blond in her math class, and come Christmas, she went to Nikole's house instead of her own. Her parents, upon hearing the news, proclaimed Maria Rosario de la Torres was no longer their daughter, and Maria cried herself to sleep. "Tuvimos dos hijas, y ya, solo una."

Joan, still dressed like John, went to Med School and befriended a surgeon named Eric. Joan and Eric went out for a while, until Joan told Eric about her gender identity. Eric was sad, but he understood. The two stayed in touch.

Maria and Nikole stayed together for the next year, until Nikole cheated on Maria with a man. Nikole apologized profusely, explaining that she had realized her sexual identity did not include women, as she had previously thought. As cliche as it sounded, Nikole said, I was just through a phase. Dios mio, thought Maria, que realidad tan cruel. And that was that with the two of them.

Her senior year of college, Joan called Maria up again. The two got back in touch, and it was as if they had never parted ways. Soon, Joan felt herself falling for Maria. Maria realized what was happening, and the two lost touch, fearing the loss of their friendship by breaking hearts.

Joan got a job as a nurse at a Pediatrics Hospital, helping children. At the hospital, Joan went by Joan, and formed a close bond with the staff, who, although not always understanding, eventually got over the fact that Joan was once a John. Joan was a nice person, and the staff knew that was all that mattered. One of the kids Joan treated, a little boy named Timmy Cortez, asked why Joan used the Men's Restroom if she was a lady. Joan smiled weakly and told Timmy that things were complicated. She said her body didn't match her mind. Timmy understood what she meant. That's okay, Timmy said, my body doesn't match my mind either. But we'll fix that, he said. We'll get better.

A month later, Joan got a call from Eric, asking if she had ever managed to pay for transitional surgery. Joan explained no, it was still too expensive. Eric explained that he had gone into plastic surgery, and he thought he would see if Joan still needed it. Joan cried tears of joy. When she arrived at Eric's practice, he smiled a bittersweet smile and told her that at the very least, he owed her this much.

A year after the surgeries, Joan was back working at the children's hospital. Timmy had just passed away after going into remission from his lung cancer, and his room was slowly being emptied of his things by his relatives. Joan was removing the sheets when she saw a familiar figure enter the room.

Maria didn't recognize Joan. All she saw was the beautiful woman standing before her, with a strange look on her face. Maria greeted Joan, and Joan realized Maria had no idea who she was. Maria explained she was the aunt of Timmy, that he was her sister's son. The two talked, and Maria left with the rest of Timmy's things. Joan felt a flurry of feelings as Maria left.

A week later, after Joan thought she had seen Maria for the last time, Maria came back, and shyly asked if maybe, Joan wanted to go on a date.

On the date, Maria asked the usual questions, only to feel a familiarness coming from Joan. Finally, Joan told Maria that he was the John she had known. Maria, at first, was conflicted, knowing she could not love John. But this wasn't John. This was Joan. And Maria really liked Joan.

Three years later, they were married in Massachusetts. Maria's parents did not show up, but Joan's parents, Eric and his husband, and Nikole and her boyfriend were all of the support they needed. They bought a house in Northampton, and they were happy. The end.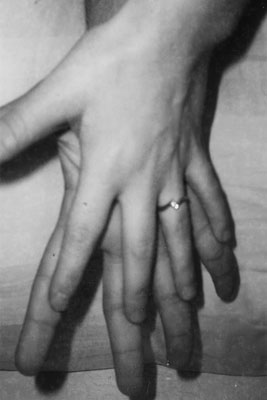 © Heather H., Phoenix, AZ