The Hourglass
December 6, 2014
The hourglass

I shattered it.
I let the sand and the glass explode in splinters at my feet, and the dark redwood get caught in the fabrics of my pajama pants. Maybe now, with the hourglass broken, time can finally stop mocking me in the darkness, and my body will allow me to sleep.
When I turned 4, she painted the universe on my body and put me in black jeans and black long sleeve shirt she painted just the same, and we went outside and asked my neighbors for candy until my voice was dry and my arms were tired from carrying such a load. It was a cruel trick for the night to play on the universe, but I had quite the treats in my pockets. She flipped the hourglass before we went out. But my mother would not let me look in the mirror. Instead, she simply told me that I looked like the sky, and she pointed to the meteor shower above my head and told me I was the universe as beautiful as what I stared at.
She told me she'd never seen my eyes sparkle that way before.
The hourglass was my mothers'. She had put it in my green room before I was born, and flipped it every night at six p.m. She would do this until the day I was born. When the sand was just starting to fall at 6:03 in the stormy sunset evening was I starting to be born. When the sand was just starting to stop at 6:57 in the rain soaked dark evening I was crying for the first time.
Every night, my mother would flip the hour glass at six p.m. She would tell me stories of the warriors that fought for their little girls with dollies and their little boys with books simply because they loved them. She would tell me these battles sometimes lasted the flipping of twelve glasses, and sometimes last only half of a glass.
When I was nineteen, she flipped it the hour before my high school graduation. When I was nineteen she collapsed on the floor before the sand ran out. When I was nineteen, she never made it to my high school graduation.
When I was seven, she took me to get my first pair of glasses, because it was determined I could not see anything close to me. When I got my glasses I felt like I could count every bit of sand that fell between the waist of the timekeeper. I, however, couldn't count past one hundred anyway.
When I was eighteen, she flipped the hourglass before she took my picture for senior prom. My date wore a mint green dress and black heels. Her eyes were brown and her lips were pink, like my neck soon would be when I would wake up, along with purple and blue.
I am twenty. The hourglass has sat, gathering dust, for one year and one hour.
The shattered glass and splintered wood sits at my feet.
I was nineteen. I waited and waited. I prayed. I never pray.
I was nineteen. The hourglass had finished running.
I've given up on whatever kept me here.
She nicknamed me time and time again when I was young. Confidence. Hope. Wish.
All these things she said I had.
My nicknames are meaningless now. I've given up on waiting. I've given up on praying. I've given up on hoping and wishing that she'll come back.
It was all pointless. Useless.
The hourglass is in shambles at my feet. The sand is being washed away by the pounding ran as it swishes down the concrete. Everything is gone now. I'm like the first piece of sand that fell. Just drowned.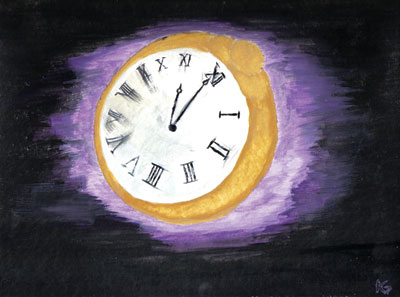 © Kyle G., Clarksville, TN