What If I Could Change the Past?
October 29, 2014
And then he fires.
What if I could change the past?
He pulls out a small pistol and points it at my forehead, a stone-cold expression on his face, his finger on the trigger. An enemy soldier see me lying helplessly on the ground next to him.
I land with a heavy thud in an enemy sand ditch, the breath knocked out of me. I barely acknowledge the fact that I'm falling into no man's land, right towards enemy lines. I'm sent flying into the sky, my semi-conscious brain recognizing the eagle's eye view of the battlefield.
"The tanks are firing!" I think he shouts to me, but I'm thrown out of the ditch by an explosion before I can hear him. He immediately rolls back down to the bottom of the ditch. After a few minutes Mattington peeks over the sand to see what is happening. Mattington radios to our own snipers to find and eliminate the enemy ones.
"Mattington, get down, they've got snipers!" I yell to Mattington. I push him off of me and let him fall to the ground. His mouth hangs open and his lifeless eyes stare to the heavens. "Smith, what are you doing?" I shout before I see the bleeding hole in his forehead. I push him off and bring his face to mine. I look to the right and see Smith lying on my shoulder. Suddenly, I'm pushed to the side and I can barely get back up. More of the enemy starts to drop and I start to bring back my calm emotional state.
"Aim for the head and the legs! They've got chest armor!" I shout to Mattington and Smith. I'm shooting at their chests, but they're falling down and then getting right back up.
I regain control and look for the enemy on the battlefield. I'm so combat-shocked that the very tiny bit of recoil from the gun knocks my shoulder and sends my aim high into the sky.
I snap back to attention and pull the trigger. Mattington is shaking my shoulder and yelling at my face. "Jones! What the hell are you doing?! Fire!"
There's craters in the sand, bodies stuck in the barbed wire, some of my friends stuck in that barbed wire, their eyes looking right at me. The enemy's already halfway through no man's land, packing heavily armored tanks followed by soldiers that appear more heavily armed and armored than we are.
I follow their example and look into my scope…and realize in horror what's going on. They've already rested their guns on the top of the pile of sandbags in front of us, firing into the distance. I fall into the ditch next to my comrades Mattington and Smith.
And then my military instinct kicks in and I dash to the nearest sand ditch. My company separates, leaving me stranded in the middle of the battlefield to look around, dumbfounded. Shouts coming from all directions, bullets zipping between the lines of my formation, explosions coming from all over, dust in the air.
And that's when reality hits me.
There's a hard slap on the back of my helmet and I fall back into formation. "Come on, ladies, let's go!"
I stop even though the rest of my company is already heading into the field. I step into the hostile zone and I assume it's sunny out, but I can't tell under my polarized oxygen mask. I fall in formation and jog out of the vehicle, my gear clunking around on my back.
I guess it's a little too late for that. "Roll out soldiers!"
Better than being in this hellhole of a place. That certainly would be nice. What if I could change the past?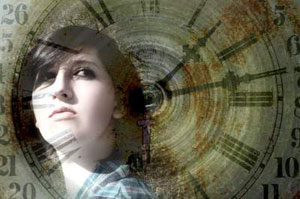 © Ryan K.