Bipolarism, or puberty
December 22, 2008
"I'm the only one you see... The only one that I know of that has felt this way. The only one that in a moment curses life, and hates it with all her guts, but then cries with deep emotion, thinking. Just how life passes by in the opening and closing of your eyelids. Thinking of how people grow up to build upcourage, pride, arrongance... even find their true soul mates, f there is such thing,and for what? I'm the only one that at my agehas had these deepest thoughts. Not caring about physique or trensa. How come even though I'm not an adult I've thought about the darkest secrets and situations that some 40 year olds wouldn't bother think about? Not even my mom, dad, or even my truly best friends could even guess what goes through my mind daily. The daily thoughts I try to fight off. Nobody truly knows how I felt when I woke uo today, nobody knows how I feel walking around my school's halls. Nobody has ever thought about me enough to truly understand why I am who I am." While I said this I saw suriosity in her eyes, rapidly I asked "Do you wanna know?"
Then she nodded and said "Well,... if you sould like to tell me I would be delighted"
To that I answered "I feel afraid, I feel lonely, Ifeel scared, and solitary. Nobody will ever understand how I feel while i walk alone to Grandma's. Nobody will understand how it feels reading a book with that horrible never ending silence that hurts, makes me cry, and makes me mad. It makes me mad that nobody is listening, nobody cares enough to listen. Well, comebody is listening and watching me, always." To that the Dr. looked directly into my eyes with an expression that read question mark all over it. Then I looked up.
"How am I supposed to survive this, huh?! Can't you just whisper in my ear, 'it's gonna be fine'?!. No... you're just going around worrying about other people's life while i sit here waiting to find out what to do. Isn't there someone who might need me?"
Then I looked into the Dr.'s eyes and scanned tham for the first time since this first visit and I said "How should I feel when my ex-bestfriend is so filled up with sh**, and pride , that I;ve compleatly lost her? How should I feel when I'm treated as an outsider, while nobody talks to me i'm worrying about my parent's problems? How should I deal with my brother when all he does is hurt me inside? How should I feel when my dad gets home so late and doesn't even sai 'hi'? Right now I feel like Edward Cullen, someone so alone, so bored of himself, broken inside that uses all of his time to read, and think, revolving every second of every minute in his head. All I know how to do is being alone, and I hate the silence, cause there's never someone. And I don't know how I f***in feel, that's why I came here! And i'm tired of pretending evrything's fine, tired of hiding that I'm f***ed up inside. Then there is the pressure and me not being good enough. It's complicated"
When I finished the Dr. covered his face with his hands, and I said "Please Doctor, make it stop."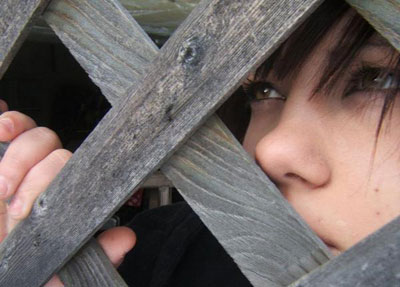 © Krystal B., Bloomingdale , IL