Ivy's Mission
July 21, 2014
Ivy's Mission

"I always thought my sister would be the one up here for me. Instead of me for her," I begin. "My sister did everything right. And I hated her for it. I hated her when we were kids and she had a better batting average than me. I hated her when we were in school and she got better grades than me. I hated that she could be just herself and was happier than me. I hated her everyday for the past seventeen years."
What a waste of that time. I could've played baseball with her in the park. Or she could've helped me in school. I could've showed up to her performances. But I played Call of Duty instead. What the f*** was wrong with me? I feel her growing inside of me, pushing against the barriers of my heart, filling my lungs, and strangling my words.
God, she didn't even have any memories of seeing me in the crowd on her big nights or me congratulating her for…for…for anything. I never even asked her what she wanted for her birthday.
Why didn't she punch me when I called her stupid? Why didn't she strangle me when I ripped her work? Why didn't she kick me from her heart?
"My sister always left things for me," I continue. "She was once nervous that our father would take the keys to my car because of a fight we had had earlier, and she gave me the keys to her car incase. I punched a whole in her wall as a Thank You." I'm sorry Ivy. If you can hear me, I'm so sorry.
"She was leaving for camp once and left me a note in my bathroom to find later that day. She spent the day packing and writing a letter to me. A letter that I regarded with little to no care." I feel drops of water chasing one another down my face. I swipe them away.
"I'm not sharing all of this with you because I want you to feel sorry for me or to hate me. I'm sharing this for my sister." I take a moment to look up at the crowd: my parent's unusually close and emotional, my friend's bare faces, and her friend's choking whimpers. "I'm sharing this with you so that you all can see my sister's mission fulfilled." My audience changes from wilting heads to soaking eyes. "Today I brought with me a notebook I found in her room, that details her attempts at helping me. Her mission was to protect me," the sobbing began again. As I open her journal, the wet screeches start to teeter off.
"March 9th 2010. Luke turns 13 today. Until now he's always been a little oblivious and self-absorbed, but now I'm worried. He's always been one who favored mischief and attention. I worry that he'll discover certain activities that combine both of them together. And if he does, I worry that he'll become overly attached with these activities. What would I do? I don't think I could get him to stop. I don't think I could prevent him from it either. But I know I would hate myself if I didn't try. My mission is to prevent him from starting. But if he does start, my mission is to stop it.
"My sister started this mission when she was 15 and continued it for 3 years." I can hear the trickle of tears plummeting onto the floor and my sister's voice in every word. I turn the page.
"September 12th 2012. Luke has begun hanging out with his baseball team a lot more recently, which worries me. His baseball team is comprised of boys older than him. I have classes with some of these guys and their stories and reps aren't exactly the thing I want around my little brother.
He comes home later and later. Heineken cans have started to go missing. Plus, my brother's breath has smelled worse than usual. I'm worried I've failed my first mission and that I'll fail the second." I turn the page.
"January 25th 2013. I've noticed a change in Luke. He hasn't been staying out too late or having anger problems. He could be getting better. But, I think it means he's getting better at hiding it. At least from me that is. My father has found various items stashed into his clothing, like a bong and vodka bottles. I don't know how to confront him about it; I've just been playing the passive role. I worry I could lose him completely from his actions or from my active interference. But I figure that I have to do something sooner or later, otherwise I'm gonna lose him more than I already have.
"Ivy always had a way of expressing her thoughts through words; she never could do it in speech. When we got into fights, she would write me notes explaining her side and her pain. It's how we resolved our issues as well. Sometimes we would just tie our notes to our dog and have him walk in between our rooms.
"This was her last entry, July 7th 2014. I leave for college soon, so this summer is my last chance at awakening Luke to his dangerous habits. I don't want to visit my little brother in prison for selling drugs or making fake IDs or throwing a party at one of our parent's houses. And that is the latter to the endings available on his path. I've decided that tomorrow I will confront Luke with everything I know and everything I hear and see what he says. He'll probably get mad. He'll probably start screaming. He'll probably try to hit me—or something else. But I will stand my ground. I will tell him that the extremes of his activities are not worth the subsequent payment. I will tell him that if one of us should die, it should be me from old age. I will tell him these things.
"She did tell me all of these things. She also threw in disgusting facts about my future body and lifestyle as a campaign against it. Her words didn't work. Being at her funeral did. She didn't die from ever partaking of these things, but because someone else did. That someone else could have been me." F***. It really could have been me. The day my parent's got the call from the hospital I was at a friends house smoking a joint and watching stupid movies. My eyes begin to swell with tears. I am a ticking tear bomb.
"Watching my own sister die in a hospital bed was a punch of reality. I will always regret not taking her words and care when I had the chance. But this is my chance to payback some of her sweat and tears. Ivy, you have succeeded in your mission. I am sober in everyway known to man. Thank you for saving me," I move to sit down next to my parents.
The service continues. People come up and share their stories of Ivy and her ways. With each story another cinder block is added to my drowning heart.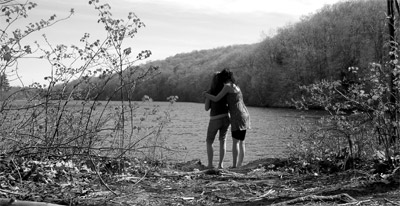 © Paige B., Woonsocket, RI