Mud Puddles
MAG
June 28, 2014
Mud squelched and oozed under the bare pads of our sun-tickled feet as the hose from your garage snaked around our ankles, its deluge of water forcing the grass to slowly retreat and sink, divulging the soft layers of mud trapped beneath. We had hauled plastic buckets over to our small mud oasis, and inside, we stuffed handfuls of soil and tokens of rocks that collected like seashells under the soft sand.

We smeared mud on our cheeks, mud on our legs, spackled mud all over our denim shorts. When you smiled, your teeth were stained brown with the soft crumbs of beautiful, earthen mud.

"Mud pies," I declared, "mud cakes, mud ice cream."

"Mud castles," you chanted, "mud facials, mud dogs."

Mud clung to us, and we clung to it; I ached for it to fill the gaps between my toes and the spaces between my eyelashes. Soil encased my hair and hugged my cheeks, and even our laughter seemed to contain the mineral quality of mud. Together, our sticky fingers reached for tree branches and egg shells, and we left our handprints on the sidewalk to fossilize.

But then your mother found us and cried over the loss of your new silk shirt, mourned the death of your precious white sandals. She scolded you, cited you as filthy, and pulled you by your shirt sleeve inside to bathe. When she stared at me, her lips pursed and her eyes narrowed, and she spat out my name as if it was nothing more than polluted factory smoke.

The next time I saw you, you wore a new cotton dress and leather boots and the sight of mud repulsed you. You stepped over puddles, refusing the urge to splatter them with your feet, and painted your nails a blood red because your mother said it would make you look more mature. You had abandoned me for the pristine world of miniskirts and shopping malls, and declared our prior behavior a foolish endeavor sparked by the ignorance of childhood. When you looked at me, I recognized the same expression donned by your mother, the one that made me feel as unwanted as a spider in your shower.

When I called your house, your mother said you weren't home, that you were sick, that you were at ballet class, despite the light in your bedroom. I began to see you only in glimpses of sidewalk exchanges and school pleasantries. Soon, you glanced at me with the cool passivity one adopts when looking at something seen but not interesting enough to notice. When I met your eyes, I saw nothing more than the polite film reserved for strangers.

Yesterday the sky was robin's egg blue, and the sun looked like a yellow balloon trapped behind the glassy expanse of cyan. Stopping by a house tucked away on a street corner, I saw two little girls bathing in mud, and I thought of you.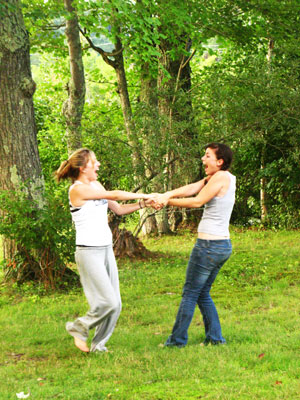 © Chantal C., Falls Church, VA