Morning Routine
June 5, 2014
On Monday, Tuesday, Wednesday, Thursday, and Friday, at 5:00 a.m., I rise to get ready for the day. I shower, brush my teeth, pick out my outfit, and eat a healthy breakfast. I make sure my homework is done. I make sure all the chores that I have been assigned for the day are done, and I make sure I look my absolute best. Then, I make sure my little brother, Joseph, has eaten and has showered properly. I dress him up in a cute outfit and escort him to the bus and wait until the bus leaves, before I venture on home. After I finish making sure everything on my checklist for the morning is completed, I take a seat on my neatly made bed, put my head in my hands, and scream. Screaming lets me get out all of the anger and frustrations I know I'm eventually going to be facing throughout the day. When I'm done with my usual screaming session, I sit up, prim and proper of course, and stare at the wall in front of me and think.

During my normal thinking period, I think about school. I think about how I hate it and how I get this horrible pain that rushes through my entire body whenever I hear someone utter the words, "students", "grades", and "teachers". I think about how school makes me feel and how it doesn't even make me feel good at all. I think about how everyone in my school thinks that straight A students don't get stressed and overwhelmed about school. How they automatically assume that because we're straight A losers, we must enjoy coming to school each and every day, because we find joy within the walls. Then, I think about how wrong they are, because I am a straight A student, with 4.0 GPA, who is captain of Chess Club, and president of the National Honor Society, and it's safe to say that I find absolutely no joy in coming to school. I find no joy in having to complete 7 hours of homework, that only helps in stressing me out, and providing me with me no extra practice, that my teachers claim "will help me in the near future". I find no joy in seeing mentally disabled kids getting picked on by girls who, for some strange reason, think they are much better them. I find no joy in walking down the halls, every single day, feeling as if I'm concealed in a prison, and I'm the only one who did no wrong. I find no joy when I try to ask my teacher a question, they immediately try to act as if I'm dumb for not understanding what they are saying, and try to embarrass me in front of the class. And yet, they are supposed to be my educators. I find no joy in that fact that whenever I tell my school counselor that I want to go to a school like Yale or Princeton, he stares at me blankly, then informs that I should "be more realistic with my goals". I find it quite vexatious, that just because he was forced to go to some state school, he wants me to as well. Aren't counselors supposed to help you reach your goals, not crash them down?

I don't like school, and I don't like what it's done to me. I used to be happy and completely full of life, and now I walk through the halls, like a zombie, except I want to die and not come back to life. I hate, I hate it, I hate it. But I'm forced to go there, because adults think it's a good idea for their kids to get a great education, and what better way to get an education is to go to a place that consists of : bullying, snotty brats, uncaring teachers, useless counselors, pounds and pounds of ineffectual homework, and a priceless amount of pain and anxiety. I mean, what could go wrong?

I usually stop thinking, at that moment, because I get to mad to maintain my thoughts. I rise from bed, straighten my outfit, adjust my hair bow, and walk out the door to the soul crippling place that is only known as: high school.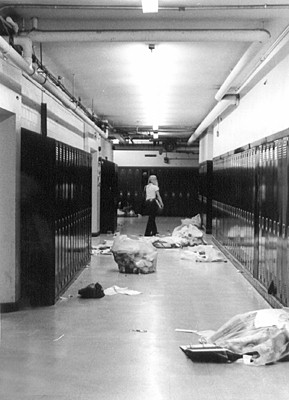 © Halsey S., Marblehead, MA