Ashes
April 30, 2014
I submerge my head in the warm water and scream. My scream inflates bloated bubbles that pulse with sound to the water's surface. I allow my head to ascend back into the bathroom light and find the room unchanged.

I reach out from the tub and grasp the vase with a shaking hand. I am surprised when its shadowy contents don't smell like her. I pour the ashes into the bath water. The black sand of someone I knew whirls around my body. I try to hold some water in my cupped hands, but it slips away in dark droplets.

I light a joint. This isn't a solution, but it's something that comes after a problem, and that's close enough for me. Inhale the narrative and exhale a story that was good until it reached adolescence and stopped making sense. This is the high you get after snorting the ashes of your cremated dreams. I promise you'll never dream again.

When I'm driving, I'm not coming from anywhere and I'm not going anywhere. I'm just moving and please don't understand me or you'll have to move too. I look forward because my nightmares are in the rearview mirror. I fear they are closer than they appear.

She is the silent murder of everything I was.

All clocks are lying. I wish time was clockwork, but time is why clocks don't work as defibrillators after clocks electrify us every time we realize how much time has passed and how little time until we will need a defibrillator just to wake the f*** up. This is not as cool as it's trying to be.

I wrote this with a razor blade and slit the paper's wrists. I'm reading the ink that's been flowing out. I'll stop when the paper dies because all dead things say the same silence. Listen for the silence at the end.

I'm not going to let myself be developed. I'm not a character: I'm a telephone pole. A telephone pole with clusters of rusted staples that cling to vestiges of paper torn away long ago. Like I cling to her. Ashes.

I saw her in heavy rain. The raindrops splintered into a streetlight halo after they hit her head. She swirls into the tub's drain.

Can you hear it?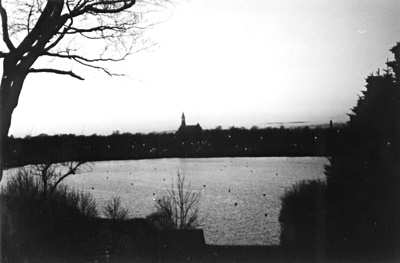 © Julie P., Marblehead, MA