117 Balloons
April 29, 2014
I awoke to complete silence, interrupted sporadically by the birds chirping cheerily outside my window. I glanced up at my origami cranes hovering above my head, hung from strings taped to the ceiling. They swayed slightly in the silent, invisible breeze, their necks curled, tails up. The usual, calming grey-ish blue of my room had brightened in the early morning sun. The cat wandered in and plopped herself on the edge of my bed, as if to say good morning. I pet her for a minute, but she wandered away after she was satisfied. I leaned over to look at the time on my alarm clock, which blinked 9:32. I was tempted to stay in bed all day. If I refused to get up, I would therefore refuse to face the reality that I was all alone. I was used to being alone; it was normal for me. Most days I didn't bat an eye when my parents got home in the wee hours of the morning and left before I was awake. It didn't bother me that they communicated with me primarily through the dry-erase board and marker on the refrigerator, so I would know where they were. I always assumed that was my normal. Even if it was my normal, it still didn't lessen the sting of being alone on my birthday.
I stretched and yawned and pulled myself out of bed, and headed towards the kitchen. I stopped briefly in the bathroom to put on my slippers and take out my retainers. As I entered the kitchen, I expected it to be empty as usual, with no signs that there were ever any other lifeforms in this house aside from myself. But then I noticed a pot of coffee already brewing. And then I noticed the strings hanging down around me. And then I saw the balloons. There were probably a hundred of them; mylar balloons, shiny and metallic, all bearing the same message of "Happy Birthday" in varying enthusiastic fonts and styles. They had all floated up to the ceiling- thanks to Helium- but their strings were long enough to allow me to pull them down, one at a time, and look at each individually. Some had flowers, while others had confetti, cake, or polka-dots printed on their smooth surfaces. As I poured my coffee- with skim milk and sugar- one singular tear escaped; a token of gratitude that someone thought of me and thought to do something spectacularly nice for me. I never imagined anyone would think of me as someone worthy of a grand gesture.
Suddenly, my cell phone rang from my bedroom and I scrambled to answer it, nearly falling as I slipped on the carpet in the hallway. I didn't think to check the caller ID.
"Hello?" I picked up, slightly out-of-breath from running. I wandered back into the kitchen, picked up my coffee mug up from the table, and walked around the room, staring up at my fantastic grand-gesture balloons.
"How many people does it take to release a hundred-and-seventeen balloons into a pretty girl's kitchen?" A male voice answered on the other end of the line. I recognized it immediately. I could single out that voice in a crowd of a thousand with ease. That voice had called to me through the hallway when I least expected it. That voice had whispered into my ear in the middle of class. That voice had sang along to the radio, cutely off-key while driving down the highway in the middle of the night. It had babbled nonsense through entire movies, making me laugh until I cried; and it had danced through my head when I was feeling lonely. That voice belonged to the one person who always managed to make me feel loved in my weakest moments.
"Only one," he answered his own question, and then hung up. I put down the phone, and then the doorbell rang.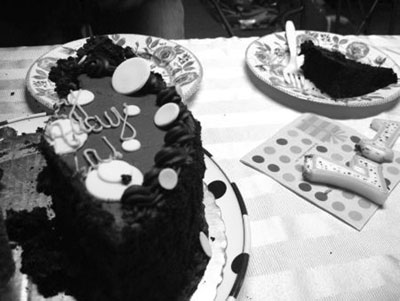 © Carolyn K., White Plains, NY