She's Here
May 1, 2014
The chilly wind is blowing abruptly, as if it is stuck in rush hour traffic. A silhouette hunches over a mound of worm and maggot infested dirt, sinking his shovel beneath its surface like a needle into flesh. His ragged breathing intensifies with every jerk of the shovel, his thin body contorting in swift movements as he rushes to uncover what is hidden beneath the land.

"She's here," he mumbles, flinging earth and insects over his grimy shoulder. A maggot gets caught in a lump of his greasy hair, but he doesn't seem to notice. He is engrossed in the quick actions of himself, the down and up motion of digging. But he is tiring rapidly in his quest to unearth his treasure.

Still bent over the mound, breathing labored and tattered trench coat hanging loosely on his gawky limbs, his shovel knocks against something. A gaped-tooth grin erupts on this weasel-like face; he passes a hand over his scruffy jaw and strokes the disheveled, uneven beard in thought. Had he at last arrived at what he had been searching for? Peering over the edge of the pit he had just dug, the man sees the corner of a wooden box protruding out of the dirt.

"She's here," he whispers in glee. Falling to his mud encrusted knees, he jabs his hands into the soil, elongated nails excavating the box from the ground. With a heaving grunt, he lifts the box out of the earth and places it down next to the chasm he had just created.

Laying his weary body down on top of the coffin, he strokes the warped wood and sighs. Nothing else mattered as he laid there, catching his breath and soaking in the moisture that was thinly lining the surface of the coffin, it was her.

Using the shovel to crack open the top, he gently grabs the decaying female body from the wooden enclosure. The man pulls the skeletal body to his, enveloping it in his embrace and inhales the deathly scent. Caressing the bald skull, they depart from the cemetery.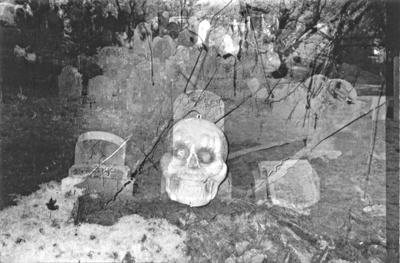 © Kyle M., Marblehead, MA