Eliza's Catalyst
April 9, 2014
Listen up!
The future is bullet-proof,
The aftermath is secondary;
It's time to do it now and do it loud.
Killjoys, make some noise.



Eliza bounded up from bed bright and early at 5:30 am to the sweet sound of My Chemical Romance. She hadn't slept very much, but thankfully she had gotten used to the average 4-5 hours of shut eye. She hurried around the house gathering her things and rhythmically bobbing her head to the tune. She snatched up her Converse, some jeans, and a The Fault in Our Stars tee shirt. The song was invigorating and energizing and always filled her with this weird evangelical zeal. The voice flooded into her brain and gave her just enough hope and power to get up in the morning and to move from her soft, cozy bed with its ever-so-comfortable baby blue printed sheets and pillows made of feather down.


Eliza had prepared her blueberry-banana breakfast shake the night before and had a few hasty gulps before she departed from her dear home in her Jeep. Eliza went to Summer Waters Community High School, home of the fearless Summer Water's Sea Urchins. Despite having an utterly ridiculous mascot, the school wasn't bad. Eliza couldn't complain; she had friends, the teachers were decent, the experiences she had so far weren't horrifying.


All of Eliza's problems lay with her head. You see, she was diagnosed with a fairly severe case of OCD in the seventh grade. This causes her to have outbursts of depression and self-criticism which last for days or weeks on end. Today it started and now it was worse than ever before.


Consequently, during the first period of the day Eliza got a series of papers back. She was not content with these grades. "Jesus, Eliza, you're such an idiot," she would say to herself. "How could I do this poorly?" "Am I that stupid or am I too lazy?" "I can't believe I'm that big of a failure."


The thoughts continued, but she got moved on by her third period photography class. The pupils needed to create a file of head shots. Eliza took lovely pictures of her friends Amelia, Xavier, Lydia, and Lazaro. The boy's had features sharp enough and strong enough to cut glass. The girl's had plump, full lips, shiny hair, and beautiful eyes. Then, Eliza took a photo of herself. She shuddered and dropped the camera. "Wow, I'm so disgusting," she muttered while looking reproachful at her complexion, her "frizzy" brown hair, and her "muck" colored eyes.


She pondered over her looks up until lunch where she was excited to find out whether or not she got the part of the Good Witch or the part of Dorothy in her school's production of The Wizard of Oz. She looked up with a hopeful grin at the casting and the smile was wiped off of her face and instantly replaced with a frown when she realized she had gotten no part. She wasn't even good enough to be a flying monkey. "What's wrong with me?" "I'm such a worthless piece of rubbish." "My grades are appalling, I look like ghastly, I am garbage yet I can't even play the part." "How pathetic am I?"


She thought no matter that how hard she tried she would never escape that dreadful sinking feeling. The one that pulled her down though she was desperately trying to swim to the surface. The anchor tied to her was preventing her from breathing. She could already feel the deluge rush into her poor, fragile lungs. She could swim but not well enough. What was powerful enough to pull her free from the crashing waves?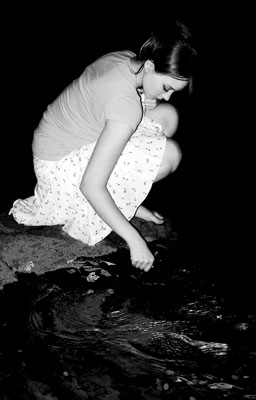 © Michelle B., Blairsville, GA