Kylie Painter
February 2, 2014
"If you can guess what I have in my pocket, you can have it," Kylie whispered into my ear.

"Why?" I asked, "There's no purpose to this, is there?" I glanced over my shoulder and found that her face was just inches from mine. I could feel her breath on my cheek. Her long, sleek black hair hung down the sides of her face like a curtain and went all the way down to her hips. She cocooned herself in it.

"Of course there's a point," she smiled and leaned away from me, "You just haven't figured it out yet." She ran her fingers through her hair and looked out the window of the cabin. It was sundown, and the rays of the sun hit her face perfectly, illuminating every inch of it. "It's kind of like a test, but not really," she continued. Kylie Painter confused me sometimes. She asked questions as though the answers were obvious, yet I could never figure out the right answers. I wasn't sure there were any, to be honest. Her outlook on life was completely different from anyone's I had ever met. It seemed that she had no regard for what anybody thought of her. Kylie Painter had been called many names by her fellow peers, and she took every insult in with open arms. It makes me stronger, she had said. I didn't understand it at the time.

"Do you want me to just guess?" I gave in, seeing as we were going to be stuck in the cabin for a while anyway. The door got jammed when we were asked to go look for a flashlight in the cabin.

"Of course not!" Kylie exclaimed as she plopped down onto the couch next to me, "Just guessing doesn't get you the right answers." It does sometimes, I thought. Kylie rolled her eyes, as if she knew what I was thinking. It seemed that she always did. In fact, it seemed that she always knew what everyone was thinking.

"Just tell me why I have to do this," I sighed as I tapped the coffee table in front of the couch. It was made of dark brown mahogany, or so I assumed. It was nice.

"Oh Brandon," she laughed, "The real question is, why not?" Kylie leaned in close to me, almost too close, and kissed my cheek. She set her feet onto the coffee table. My mind trailed off as I stared at her. I never understood her. Kylie Painter always sent mixed signals. You could never be sure of what she was thinking. You could never be sure of what Kylie thought of you, which is why everyone was so curious about her. I was extremely curious.

"Before I guess," I began, "I'll need to know a little about you. That will help me figure it out."

"Okay," she smiled, "Let me tell you a secret. When I was little, my dad was shot in combat. It was severe, and he died a few hours later. I never got to say goodbye." I clasped her hand as she spoke. I was not expecting to hear something so personal, but with Kylie, I never knew what to expect.

"I'm sorry," I said.

"Why are you sorry?" she giggled, "You didn't shoot him." I frowned. She was right. Kylie Painter was always right. "My dad's the reason I have such strong opinions," she continued, "It's why I don't care what anyone thinks and why I ask so many questions. My dad taught me that the world was going to throw things at me, and that I would either have to catch what people threw at me or create my own ball game. That's what I'm doing; making my own game. Do you understand?" I nodded and Kylie grinned, "Only I know what I want and only I know what my opinions are. If people can figure you out, then you're not doing a very good job." Kylie Painter was honest and smart and kind. But most of all, she was real, and I admired her.

"Why are you telling me all of this?"

"Because I think that it's time you make your own ball game, too, and stop letting people figure you out," she smiled. "I find you intriguing, Brandon."

"I know the answer to your question," I brushed her black hair out of her face, "Only you know what's in your pocket. I can't figure you out."

"You're right," Kylie Painter smiled.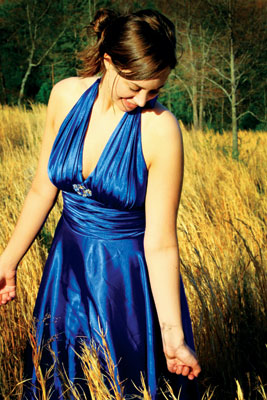 © Michelle B., Blairsville, GA